Government spends big on Aston Martin's EV future
The Government has put its faith in the British firm's electrification plan with new funding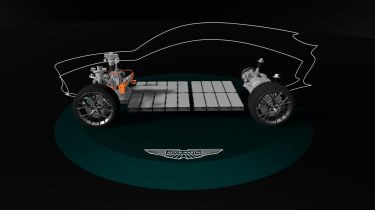 Aston Martin is planning on revealing its first all-electric car in 2025, and the company's aim of becoming an EV maker has received a boost of £9million from the Advanced Propulsion Centre non-profit organisation. 
Reinventing itself as an 'ultra-luxury' brand, Aston Martin is investing £2billion into its 'Racing. Green' sustainability strategy over the next five years, transitioning from a pure-petrol engine range to plug-in hybrid (with the Valhalla in 2024) and then to fully-electric cars.
Aston Martin says all of its models will feature an electrified powertrain option by 2026 and its 'core range' will be pure-electric by 2030. Accompanying Aston's announcement of the new investment, there was also a picture of an electric car platform and two vehicle silhouettes - one a DBX SUV and the other a sleek coupe. 
Roberto Fedeli, Group Chief Technology Officer of Aston Martin, said of the grant: "it will help achieve our ambition to be an in-house BEV technology leader in the ultra-luxury, high-performance segment".
Aston Martin also recently agreed a partnership with Lucid to access the American firm's technology. The deal, worth £182million, means Aston can use Lucid's electric motors and transmission.
Can't wait for Aston's new EV? These are the fastest electric cars in the world...