"Aston has a new CEO - and the choice of individual could not be better"
Auto Express editor-in-chief Steve Fowler thinks ex-Nissan chief Andy Palmer is a perfect fit as Aston Martin's CEO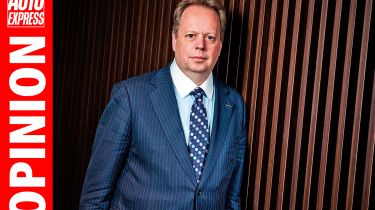 Only a few weeks ago, I was bemoaning the pace of progress at Aston Martin compared with its rivals. Here is a great British brand with so much potential, yet it seems to have been resting on its laurels for so long those laurels are looking tired and weak.
So it was fantastic to get a call this week to tell me that, at long last, Aston has a new CEO – and the choice of individual could not be better.
Andy Palmer will be well known to readers of Auto Express as the inaugural winner of our Brit List. Back in 2012, we rated Palmer as the most influential Brit working in the global car business, which makes this quite a coup for Aston Martin.
Palmer started his career as an engineer working at AP, before moving on to Austin Rover. He went to Nissan in 1991 and leaves it as a company with a model line-up that's the envy of every other major car maker – a model line-up he's helped shape.
Nissan would be a very different company now without the Qashqai and Juke in its line-up – two cars Palmer played a big part in persuading his bosses to build. And build in Britain.
Among his myriad responsibilities, he was boss of luxury brand Infiniti. He brought Infiniti together with F1 world champion Red Bull fora sponsorship package that morphed into an engineering relationship. Then there are electric cars, Olympic deals and London (and New York) taxis. Andy Palmer is a bloke who fits more work into a day than the rest of us do in a month.
He once told me he wanted to run a car company, and they don't come with much more opportunity, or history. He'll make an impact, that's for sure. We can't wait to see how his brand of brave thinking transforms this great British car company.
Do you think the timing is right for an Aston Martin revival? Let us know in the comments below, on Twitter or on Facebook.