James Bond's Aston Martin DB10 to be auctioned for charity
Just one Aston Martin DB10 from the Bond film Spectre will be sold, with the money raised going to charity
Late in 2014, at a special event at Pinewood Studios in London, James Bond's new company car, the Aston Martin DB10, was revealed to celebrate the new film Spectre.
Now, the film has been released and we're all intimately familiar with the DB10 after seeing it in action on the big screen. So far Aston Martin has been keeping all of the cars used for filming to itself - but that's about to change, as one will soon be sold off at a charity auction.
Aston reckons it will raise about £1million for Médecins Sans Frontières at the event on 18th February, as part of a Spectre-themed auction.
Based on the V8 Vantage, the DB10 has a 4.7-litre V8 engine and uses a six-speed manual gearbox. The bodywork is all carbon fibre, and the handmade interior gets leather and aluminium trim too.
Watch the video below to see it in action, all guns blazing...
007's Aston Martin DB10 on video
• Best ever James Bond cars and gadgets
Aston Martin DB10 is James Bond's new car
It's not just James Bond who will be licking his lips at his new company wheels, but anyone who is thinking of buying a Porsche 911. That's because 007's latest runabout points to a new Aston Martin heading your way.
The official line from Aston Martin is that Bond's new car, the Aston Martin DB10, showcases the next design direction for the British marque's future models. But insiders have told Auto Express that while the choice of DB10 as a name implies Bond's new concept car precedes a DB9 replacement, it's in fact a loose preview of the next-generation V8 Vantage due in 2017.
The DB10 is of similar proportions to the V8 Vantage and arguably the most aggressive-looking Aston Martin we've seen in recent years. The nose appears to be lower and features a different look for the trademark Aston grille, while to the rear, a more angular design is used which is not too dissimilar to the Jaguar F-Type Coupe. However, when we asked which of these features we could expect to see on the next V8, our insider was tightlipped.
The DB10's design project was led by Aston Martin chief creative officer, Marek Reichman, and the 007 film's director, Sam Mendes, even had a hand in creating the ultimate car for the world's most famous spy.
Dr Andy Palmer, CEO of Aston Martin, said: "In the same year that we celebrate our 50-year relationship with 007, it seems doubly fitting that today we unveiled this wonderful new sports car created especially for James Bond. "To be partnering once again with EON Productions is great news for this company and for everyone around the world that loves to see Bond at the wheel of an Aston Martin.
"I'm incredibly proud of everyone in the team at Gaydon who have brought this special project from concept to reality."
Production will be strictly limited to 10 of the bespoke sports cars.
Rumours are rife online that Bond will also drive a Fiat 500 in the new film, firing it through the city streets in an epic set-piece chase sequence. However, we now know that the cute little Fiat is not the Bond car proper in the new movie.
Jaguar Land Rover has also confirmed to Auto Express that it will be supplying cars to the film.
007 has been known to park his Brioni-suited behind in some weird and wonderful cars during his on-screen outings, but he usually has something altogether classier on standby - often with rocket launchers behind the headlamps. The new DB10 would certainly seem to fit the bill and we can't wait to see it in action.
Spectre Bond villain's car is the Jaguar C-X75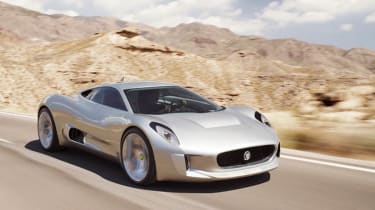 While Bond actor Daniel Craig swans around in his new DB10 in Spectre, his nemesis, played by Oscar winner Christoph Waltz, will be taking the wheel of the Jaguar – C-X75 concept first seen at the 2010 Paris Motor Show.
Jag has a history of supplying Bond villains' cars, with a heavily modified XKR featuring in 2002's Die Another Day. And while Jaguar played up its popularity with villains in its recent 'Good to be Bad' ad campaign, one Aston Martin insider cheekily suggested it's better to be Bond.
Q&A: Aston Martin's boss, Andy Palmer, talks Bond
Auto Express caught up with Aston Martin's new CEO at the Bond in Motion exhibition in London's West End, just hours after the DB10 had been revealed to the world at the Spectre movie launch.
Q: How important is the relationship with James Bond to Aston Martin?
A: "Heritage is important – when you get to the nub of what a brand stands for, you're buying into something you trust, that has a degree of longevity and that you know. Aston Martin has 101 years, but we also have 50 years of perfectly describing what Aston stands for as part of Bond."
Q: What ties the two together?
A: "Bond is always extraordinarily good looking, well educated, well mannered, well dressed, a little bit naughty, just like Aston Martin – there's that cheekiness in there that's exemplified by our V12 engine with the noise and the driving manner. If you think about it, Bond has moved on from the days of pulling out a wire [from a watch], and Q is no longer an old guy – he's a modern geek if you like – I think that's relevant to the car brand as well."
Q: What does the DB10 tell us about future Aston Martins?
A: "It previews a design language. We don't have a car that's looking like exactly that, but it most certainly talks to the design of a future generation of cars."
Q: Will we be able to buy a DB10?
A: "The DB10 itself is unique and there'll be 10 of them and eight will be used in the movie. We won't be making more or selling any – we'll be strong on that."
Q: Are we into double figures for DB model names, then?
A: "We won't be calling the DB9 a DB10, that's for sure, but it does sound like that."
Q: What's your favourite Bond car?
A: "It's got to be the DB5."
What to you think of Bond's new wheels? let us know in the comments section below...