DBX is our Qashqai, says Aston Martin CEO
Andy Palmer explains how 2019's DBX is aimed at a new type of customer, just like the Qashqai from his Nissan days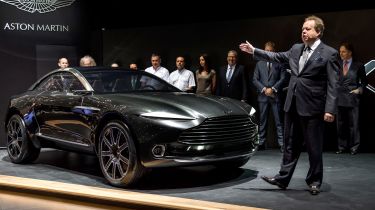 Following the announcement last month of a £200m injection of funds and confirmation that the DBX concept will make production, Aston Martin CEO Andy Palmer, has shed more light on the thinking behind Aston's most radical model ever.
Shown in three-door concept form at the Geneva show in March (the production model will have five-doors), the all-electric DBX is aimed at "white space" according to Palmer and "not dissimilar to the Qashqai in that respect."
He added: "We think there is a different space to the traditional SUV. Why? Because we make beautiful cars and it's hard to make a beautiful SUV. It's hard to make a box beautiful."
Palmer reinforced that the DBX is part of a three-part strategy he calls the 'Second Century Plan'. Phase one is 'Stabilisation' – by replacing the sports car line up including a new DB9, Vantage and Vanquish – phase two is 'Core Strengthening' and phase three is 'Portfolio Expansion', which is where the DBX comes in.
"Us, Bentley, Rolls-Royce; we are all in a race to bring SUVs, crossovers, high-sided saloons, whatever you want to call them, to market. We are in a race for that kind of customer," Palmer explained. A source revealed that we won't see the DBX until 2019, however, by which time battery technology will have matured allowing a range of over 300 miles and performance befitting of an Aston.
Ultimately, diversifying the product range is all about securing the long-term financial future of the company. "Ferrari uses merchandise, but our way out is the DBX," said Palmer. "You can't create enough working capital with just 7,000 cars a year whichever way you look at it. You've got to extend the portfolio somewhere, and I'd rather do this than sell caps and t-shirts."
There are big plans for the rebirth of the Lagonda brand, too, which starts with the Taraf, but will continue with a family of four-door saloons to take on Rolls-Royce and Bentley, but with a sportier twist.
"We didn't bring back the Lagonda brand to let it die for another forty years," said Palmer. "It will never be huge volumes, but I can certainly imagine something in that chauffeur-driven space."
Now read about Aston's plans for an all-electric Rapide.