Audi Virtual Cockpit and other top tech inside the Q series (sponsored)
We explore the technology behind the Audi Q SUV range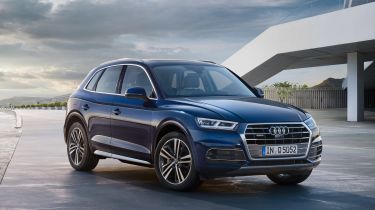 If you're looking for a capable, premium car that can do everything, the Audi Q range should be at the top of your list. From the funky, fresh Audi Q2 to the graceful, imposing flagship Audi Q7, each model in the Q family offers a cocktail of qualities never before seen in the car market. Featuring sharp, svelte styling, along with capable handling – on and off the road – each Q car also contains a raft of Audi technology that you'd usually associate with a luxury saloon. This technological showcase makes driving a Q model safe, comfortable and, most importantly, fun. Here we'll outline a few of the standout tech features that set the Audi Q range apart from the competition.
Virtual Cockpit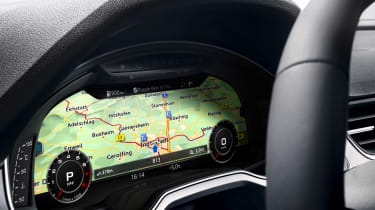 Virtual Cockpit does away with the traditional analogue dials and needles that you'd usually find staring back at you when you sit in the driver's seat. Available in most Audi Q models, Virtual Cockpit instead gives you a TFT screen that delivers all the information you could ever need, from which song you're playing to your journey plan – it'll show you your current road and engine speed, too, of course. 
Whether you want to see a larger display of satellite navigation maps, your mpg figure, average speed or even who's calling your mobile, it's possible with Virtual Cockpit – and you barely have to divert your attention from the road.
Virtual Cockpit can be controlled and configured via controls on the steering wheel, so it's easy to fly through the intuitive menus without taking your hands off the wheel. Simply put, Virtual Cockpit is everything Audi believes in-car technology should be – it's slick, accessible and using it soon becomes second nature.
Bang & Olufsen sound system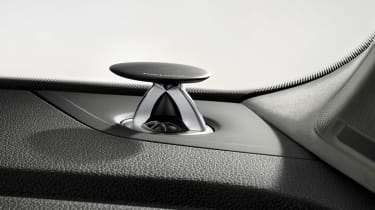 The Audi Q range features one of the most stylish, comfortable cabins you can get in a small, medium or large SUV – but the luxury doesn't stop there. Each Q car comes with the option of a premium, purpose-built sound system courtesy of Bang & Olufsen, offering the driver and passengers a truly immersive listening experience.
Comprising up to 23 discrete loudspeakers installed in key areas around the interior, Bang & Olufsen advanced sound systems are designed to be heard and felt – but not seen. Optimised for the cabin of most Q cars, all the speakers work together to envelope each seat in 3D sound. The setup is powerful, too, with some systems pumping out 1,900 watts of power. 
If you're serious about your music, you'll know that Bang & Olufsen is a pioneer in high-fidelity sound. The product of years of collaboration, and decades of learning from the Danish audio master, the Q range's Bang & Olufsen system will convey your music as it was intended, with crystal-clear treble, and engaging midrange and bass that will move you. 
HUD 
Heads-up display (HUD) technology is now available in the Audi Q range, and it brings a new level of ease and safety to driving. Drivers have to look away from the road countless times during every journey, whether it's to check their speed or glance over at the satnav – and each of these small moments represents time you're not fully concentrating on driving. 
Partnership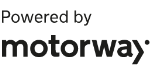 Need to sell your car?
Find your best offer from over 5,000+ dealers. It's that easy.
To combat this, the Q range's HUD technology projects crucial information such as speed restrictions, navigation instructions and your current speed to the windscreen – so you don't even divert your attention away from the road. 
While fighter pilots have relied on HUD technology for years, it's now something that drivers of most Audi Q models can experience every time they set off on a journey.
Smartphone interface with Apple CarPlay / Android Auto
The Audi Q range has a powerful and intuitive infotainment system built into it, but most models also feature compatibility with both Apple CarPlay and Android Auto. That means if you've got an iPhone or Android smartphone, using your handset through your Audi can be a seamless experience.
Both Android Auto and Apple CarPlay systems use the car's screen to display menus similar to those you'd see on your smartphone, and they also give you access to the information stored on your handset. This means you can easily make calls using your own phonebook, read your own text messages and even use your favourite apps, such as Spotify and Maps. 
But the best bit? If you decide you don't need to use Apple CarPlay or Android Auto, it's easy to revert back to Audi's own navigation and entertainment system. 
Driver assistance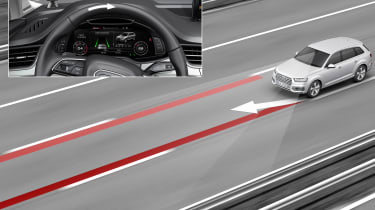 Audi Q models combine all the capability of an off-road vehicle with the dynamic handling of a road car, but most also feature several technologies to make longer journeys comfortable and stress-free. 
Designed to make motorway driving easier, adaptive cruise control will set your maximum cruising speed, but also intelligently react to the cars around you on the road – slowing down dynamically to the speed of the vehicle in front. After you've set your preferred speed and distance from other cars, the Audi's radar and camera sensors will do the rest. On normal roads, or the M25, Traffic Jam assist will also automatically start, stop and steer the car for you, so mundane traffic driving is eliminated completely.
What's more, most Audi Q models can do the steering for you on the motorway; Active lane assist intelligently monitors road markings, keeping your car safe and in the correct lane.
Road sign recognition
It's sometimes all too easy to miss the odd road sign while driving, especially on a motorway. Missing signs such as temporary speed limits and diversions could become a real problem, but the Q range has the technology to ensure that doesn't happen. Available on most models, the road sign recognition system places cameras around the windscreen of Q models to act like a second pair of eyes for you, scanning for signs that you may have missed.
The information collected is then displayed everywhere you need it, from the satellite navigation to the car's HUD display, so you can see crucial road information at a glance.
Parking Assist system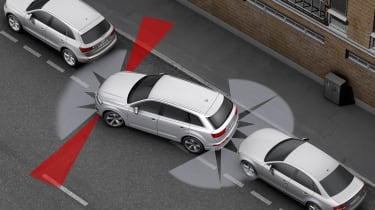 The Q family features a range of technology to keep you safe and comfortable when driving, but sophisticated tech can help at the end of your journey, too. Most Audi Q models are available with a Parking Assist system, and thanks to an array of sensors and cameras, the setup gives drivers 360-degree awareness around the vehicle. 
Audi's Parking Assist system will tell you just how close you are to parked cars via audio and visual cues, while reversing in most Audi Q models is also easier than you'd think. With reverse gear engaged, the Q range's infotainment screen shows you the space around the rear of your car, and an overlaid graphic even uses your current steering angle to show your projected reversing path. The result? Each Audi Q model is both luxurious and robust, but as simple to park as a compact A1. 
Active Night Vision Assistant
Every Audi Q car features sophisticated headlight technology to give you the best possible view of the road, but it's possible to go even further. The Q7 can be specced with Audi Night Vision Assistant, which uses state-of-the-art technology to give you an even better idea of your surroundings when the sun goes down. 
Active Night Vision Assistant uses a thermal-imaging sensor mounted into the car's grille, and then sends a crisp, live image directly to the dashboard. Because the Active Night Vision Assistant detects frequencies below visible light, it allows you to see much further into the distance, providing an even better picture of the road ahead, and giving you more reaction time.
Audi Connect Online features 
In 2017 we're always connected, whether it's to our emails and social media accounts or our music – and Audi Connect puts most of the Q range at the heart of your connected life. It allows you to turn your Audi into an app powerhouse, with a Wi-Fi hotspot for eight separate devices, giving you access to all the things you'd expect from your phone, from the dashboard.
A range of intelligent apps that makes your Audi and phone one seamless solution, Audi Connect keeps you in touch with your Twitter feed, lets you stream internet radio to your car – and even allows you to look up the weather, or the cheapest fuel prices nearby. After using Audi Connect for the first time, you'll wonder how you lived without it.