'Audi is shaping up to become Tesla's biggest rival'
Steve Fowler highlights the massive strides Audi has taken in the electric car sector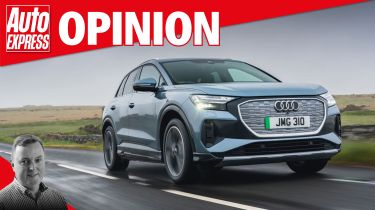 The highlight of my 2021 has been being able to spend time in the company of colleagues and industry folk – in person for the first time in a long time (although at the time of writing it seems that may have to take a back seat for a while). 
We have a car industry that's very much focused on a bright future, with technology to the fore. And one company in particular that has impressed me is Audi.
Talking to Audi CEO Markus Duesmann earlier in the year, he was bold enough to admit that Tesla had a clear lead when it came to technology. His plan was to ensure Audi developed a new software-first approach, just as Tesla has. That may make Audi a follower, but there are plenty of other areas where the company leads –including a clear understanding of its brand values.
My current long-term test car is an Audi Q4 e-tron, a model that, like many of its forebears, shares much with its Volkswagen Group siblings. Yet more than any other Audi for a very long time, it feels more Audi.
I've spent plenty of time driving the four brands' new models based on the Group's MEB electric car platform. While Volkswagen, Skoda and Cupra have done a better than average job of differentiation, their cars still feel similar in so many ways. Not the Audi; there's no hint of sharing and the Q4 e-tron feels unique – right down to the feel of the doors as you open and shut them. Clever.
While the future is bright for Audi, it's also bright for Auto Express – and we've you to thank for that. Auto Express continues to thrive as the UK's favourite weekly car mag and I thank you personally for your continued support – it's hugely appreciated.
We'll be back on your newsagent's shelves on 29 December, but in the meantime, enjoy this special issue. And on behalf of everyone at Auto Express (and our new parent company Autovia), have a very Happy Christmas.
Check out our list of the best electric cars to buy now...