Audi A5 Ultra review
Audi A5 Ultra gets award-winning Ultra tweaks, and becomes pick of the range
It seems Audi can do no wrong with its new range of tax-friendly Ultra models, and the A5 Coupe shows you can have style as well as rock-bottom running costs. Compared to the 161bhp TDIe model it replaces, this version will save company car users, paying 40 per cent tax £248 a year. But there's more to this car than raw numbers. Punchy acceleration, excellent refinement and handsome styling are among its many talents.
If you're after a stylish, frugal coupe, then the new Audi A5 Ultra could be worth a look. Replacing the A5 Coupe TDIe, it offers improved economy and emissions of 67.3mpg and 109g/km (versus 64.2mpg and 115g/km), wrapped in a slinky three-door body.
The A5's output remains the same as the outgoing TDIe model, at 161bhp, but torque rises from 380Nm to 400Nm, dropping the 0-62mph time by a tenth of a second to 8.3 seconds.
The way it delivers its performance has been tweaked, too, with peak power arriving 1,200rpm earlier at 3,000rpm, and maximum torque available over a wider spread from 1,750rpm to 2,750rpm.
As a result, there are no compromises to the driving experience. In fact, the reshaped power and torque curves mean you find yourself in the meat of the power band more often, and able to exploit the strong mid-range acceleration.
For a four-cylinder diesel it's smooth, too – vibrations are well damped so you feel very little through the gearlever and pedals, and even under hard acceleration the engine hums rather than roars.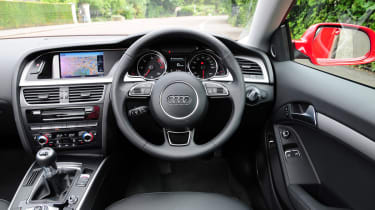 The rest of the package is familiar A5, so it's never as engaging as a BMW 4 Series, but the well oiled gearshift, light but precise steering and tight body control strike a superb balance between covering miles effortlessly and providing just enough incentive to have fun on an open B-road. It may be slower than the BMW, too, but it wins on efficiency.
Although the suspension is lowered slightly to improve air flow under the car, it's no firmer, and there's a soothing suppleness to the ride, too, thanks to standard 17-inch alloys.
Only available in SE-spec in the Coupe – though SE Technik and S line versions can be had in the more practical Sportback – the Ultra comes with Milano leather, parking sensors and a 6.5-inch colour screen. The interior has a good-quality feel, but the big screens and touch-sensitive control systems of more recent Audis now make the A5's cabin seem a bit outdated. It's a shame the pedals are so offset as well – it makes for a slightly awkward, uncomfortable driving position.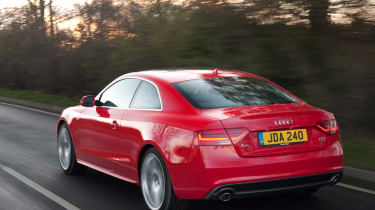 It's bang up to date on the outside, though, and the A5 Ultra flies under the radar with its small wheels and just a discreet 'Ultra' badge on the bonnet.
But to our eyes, that lets the A5's natural good looks shine through. It's an understated choice, but the new pick of the A5 Coupe range.