Audi TT TDI diesel gains quattro all-wheel-drive
Diesel TT gets extra grip with optional quattro all-wheel-drive, plus S-tronic dual clutch transmission as standard.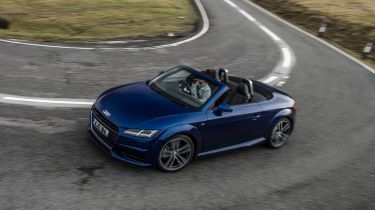 Audi is expanding the amount of choice on offer in its TT range, introducing new TDI diesel models available with quattro all-wheel-drive. Order books for the new quattro cars are now open in the UK.
With first deliveries touted for spring, the new TDI quattro cars slot in above the existing front-wheel-drive diesel models. Both Coupe and convertible Roadster styles are available, and customers have a choice of three equipment levels to choose from.
• Best sports cars on sale right now
Starting from £34,230 for the 2.0-litre TDI quattro Coupe in Sport trim, all cars in the new TDI quattro line-up get the 181bhp 2.0-litre diesel powerunit, though fitted with a six-speed S-tronic twin-clutch transmission as standard. Opting for the all-wheel-drive system and the new gearbox adds a noticeable premium, given the standard front-wheel-drive 2.0-litre TDI TT Sport starts from £30,490.
S-Line trim cars and Black Edition models are also available, while the Roadster versions kick off from £35,845.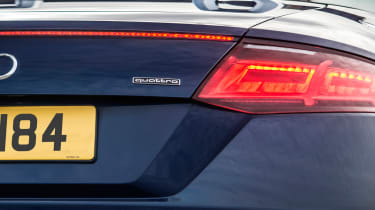 Adding the all-wheel-drive system and the S-tronic gearbox furthers the performance of the TDI models and the 0-62mph sprint times of both the Coupe and Roadster have dipped. The Coupe manages the dash in 6.7 seconds, shaving four-tenths of a second off the front-wheel-drive car's time and clocking in a top speed of 145mph. As for the roadster, 0-62mph takes seven seconds flat, with top speed recorded as 142mph.
With the new drivetrain in place efficiency does take a hit. Audi claims the Coupe delivers 52.3mpg and 142g/km CO2, compared to the front-wheel-drive version's 60.1mpg and CO2 emissions of 124g/km. It's a similar story with the roadster, dipping to 50.4mpg from 58.9mpg and rising to 147g/km from 129g/km CO2.
Does quattro all-wheel-drive sound like a good option on a TT diesel? Let us know your thoughts in the comments!