Bentley looking at new small car for 2019
Saloon rival for Aston Martin Rapide, Porsche Panamera and Maserati Quattroporte could be on the cards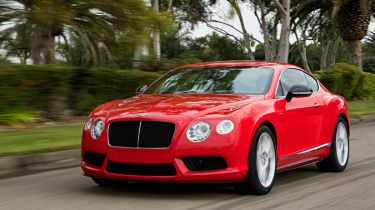 Bentley is studying whether to add a fifth model to its line up, with a smaller saloon one of the favourite ideas.
Speaking to Auto Express at the Geneva Motor Show, Bentley Sales and Marketing boss Kevin Rose said, "We've said that we're looking at an SUV, then we'll replace the Continental and Flying Spur. Then a small car could be something we'd do.
"A fifth model line would be attractive, but it doesn't have to be cheaper."
Bentley boss Wolfgang Schreiber also commented on the potential for a smaller saloon by saying, "We could, in principle, imagine going in that direction."
Rose also said that a new car would more than likely be built in the UK: "I would imagine we could build it in Crewe. We've got the space and room to expand, so physically we could build it in Crewe."
With the new Mercedes S-Class moving upmarket, plus other premium rivals also selling well, Bentley has an eye on what the competition is doing. "A small car would enable us to have something up against Aston Martin and Maserati," said Rose.
However, don't expect the baby Bentley to be cheap. "Price is an important part of exclusivity," said Rose, "so it's hard to see us coming down to anything under £100,000."
Bentley has also confirmed that the new SUV will be the first model to feature plug-in hybrid technology, but the first diesel Bentley is also on the cards according to Rose: "We'd see the benefit of a diesel engine, but where and how hasn't been decided yet."