Bentley's future design plans revealed
Design boss Stefan Sielaff reveals his plans for the luxurious future look of Bentley's new models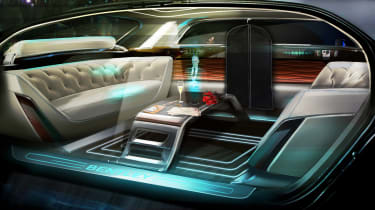 Bentley's new design boss, Stefan Sielaff, has revealed his vision for the future look of his brand's new models, which include next year's new Continental GT, another SUV and a production version of the EXP 10 Speed 6.
German-born Sielaff has been with Bentley since July last year, but in his previous role as head of VW group interior design worked with the Bentley design team on last year's Speed 6 concept. Now the self-confessed Anglophile has full responsibility for the future of Bentley design.
"We're pushing Bentley design into the future of luxury design," Sielaff told us. "We've particularly looked at what makes Bentley British – it's a cultural aspect and an ability to bring opposite parts together.
"It's the fusion of extremes – in our case performance and luxury – that's so unique." 
Sielaff revealed that Bentley will stretch those two extremes with the flagship Mulsanne becoming even more luxurious, and a further stretch towards performance, possibly with cars like the EXP 10 Speed 6.
The three product strands of performance, SUV and luxury models would have their own unique looks with unique treatments for window lines and grilles.
Sielaff also explained that light treatments for sportier models (SUVs and GT models) will have large headlights flanked by high-set smaller lights that are "mean and with a focused look'", while luxury cars will have large headlights with lower-set smaller lights to look "more relaxed, calm and upright". 
Rear light treatments would be different, too, with wider, slim LED lights at the back of performance models, getting more and more upright as you head up the range to the luxury models. All rear lights will feature increasingly intricate patterns with the B signature.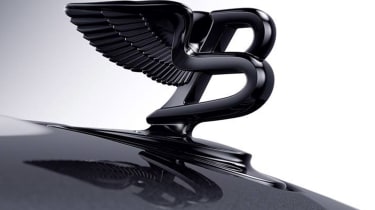 Sielaff and his team is also redesigning the two versions of the Bentley badge – the winged logo and the famous flying B.
Future Bentley models will have distinct 'prestige proportions' with a long bonnet, short front overhang, a long 'prestige mass' (the distance between dash and front axle), a deep body, long rear overhang, broad C-pillar and short boot. And according to Sielaff we should expect more "sexiness of sculpting", describing "a combination ofsharp lines with three dimensional surfaces."
Inside, Bentley will focus on honest, balanced, crafted and timeless interiors with incredible attention to detail. There's likely to be more elements produced using 3D printing, as on the Speed 6 concept. That included hollowed out knurled items like indicator stalks that, according to Sielaff, can't be milled or cast.
Bulls-eye vents and organ stops will be maintained, while more advanced finishes like quilted wood or stone veneer along with other natural-based materials will also feature. 
The new take on traditional craftsmanship will extend to technology, with Bentley previewing a 0.5mm thick flexible screen that can be used around the sides of the car below the window rails. 
Bentley has even previewed an autonomous future with an image of an interior featuring facing, sumptuous sofas, many of the new materials already mentioned and even a holographic 'virtual butler'.
Sielaff even claimed that Bentley invented autonomous driving, "Because our customers have had chauffeurs for the past 100 years!"
The new vision of Bentley's blend of performance and luxury will be served up first in next year's replacement for the Continental GT, while CEO Wolfgang Durheimer recently told us that a decision would be made by the end of this year on whether to produce another SUV model or a smaller sports car along the lines of the Speed 6.
What do you think of Bentley's future look? Let us know in the comments section below...