New driver-focused Bentley Continental GT S revealed
The new S is based on the V8 model and is available on the Bentley Continental GT and GTC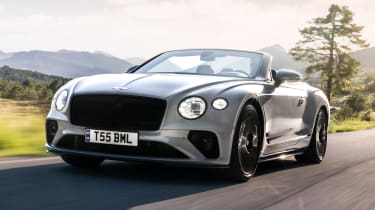 1/18
Bentley has unveiled a sporty S variant for the third-generation Continental GT and GTC. 
It's not the first time we've seen an S badge on the luxury grand tourer - Bentley launched a V8 GT S for the second-generation Continental in 2014, bringing with it a bump in power, a few cosmetic tweaks and minor chassis changes.
The new Continental GT S doesn't get an increase in power over the standard Continental GT V8, but its 4.0-litre twin-turbocharged V8 wasn't exactly lacking to begin with, pumping out 542bhp and 770Nm of torque. This means the 0-62mph time remains unchanged at four seconds and it'll keep on going to a 198mph top speed. You should also be able to hear that V8 better in the S thanks to a new sports exhaust system.  
S specification brings with it Bentley's 'Dynamic Ride' suspension system as standard - incorporating an active anti-roll system to keep the car balanced in the corners and to help maximise ride quality.
While the powertrain remains the same, there are plenty of cosmetic tweaks to signify this is indeed the sportier S model. The 22-inch wheels are exclusive to the S and they're painted in black chrome - contrasting with the red calipers underneath. There's more black detailing on the radiator grille and the headlights and rear lights are dark tinted. The quad tailpipes are also finished in black. 
Inside, there are more subtle indications with the 'Bentley Motors Ltd' treadplate being replaced by an illuminated 'S' while the seats have also been given an 'S' emblem on the headrests. 
So the driver doesn't forget they're behind the wheel of a sportier edition of the Continental GT, the digital instrument cluster is lifted from the range-topping GT Speed model with what Bentley says are "performance-focused graphics".
Bentley claims the new S will be "focused on driving performance and striking visual cues" and while the 2,164 kg Continental GT might sound like a tough platform to create a true driver's car, the excellent GT S of 2014 proved that Bentley could make a fast, fun and luxurious grand tourer. 
We expect the GT S to cost significantly more than the standard GT's £157,900 starting price, although not as much as the £209,900 GT Speed.
Click here for our list of the best luxury cars on sale...