Best MPVs for Motability 2022
While there are loads of superminis and city cars on offer to Motability scheme members, you'll pay more if you want an MPV.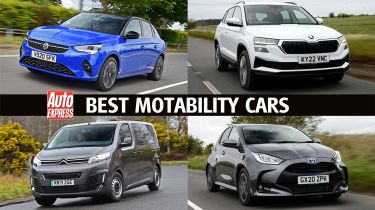 While there are loads of superminis and city cars on offer to Motability scheme members, you won't necessarily find the same nil advance payment deals if you want a larger MPV. And, at the time of publishing, the choice presented to you is very scant.
As many customers have flocked to SUVs, the MPV market has dried up somewhat, so there aren't as many options as a few years ago. In fact, all three of our MPV choices use the same parts and powertrain. And, because Citroen and Vauxhall are part of the same group of companies, both are electric.
That'll be perfect if you're not planning too many long journeys in your car, and if you have somewhere to recharge it. The good thing is that the conversion to electric hasn't robbed any space from the rear seats or boot. So for ultimate access and practicality, check out our pick of the Best Motability MPVs.
Citroen e-Berlingo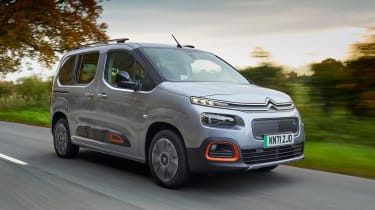 The Berlingo majors on all the things that make a great MPV – brilliant passenger and boot space, low running costs and great value.
Most MPVs are designed with practicality at the forefront, but few others execute this thinking as well as the Berlingo. In every interior dimension, the Berlingo is huge: head, leg and shoulder room are vast, and there's enough width to the second row that three child seats can be fitted across. The large sliding rear doors make it easy to get in, too.
After the switch to electric power, the Berlingo remains smooth and refined. Up to 170 miles is possible on a full charge.
Although closely related to the Peugeot Rifter and Vauxhall Combo Life, the Berlingo manages to bring added character with its quirky design touches. Handily, the Citroen is cheaper upfront too.
Citroen e-SpaceTourer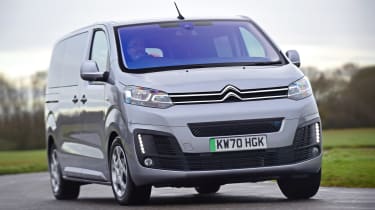 While affordable seven-seat SUVs have stolen sales from traditional people carriers, if you're after the most effective way of transporting seven adults and their gear, there's no contest: you still need an MPV. And, Citroen's second entrant in this category, the e-SpaceTourer is one of the biggest.
It offers plenty of versatility, with up to nine seats that can be folded or removed to suit your needs. Bear in mind that the seats are heavy; you may not want to lug them in and out on a regular basis.
Luggage capacity is typically small with all seats in place, rising to almost 2,400 litres with just the front seats in place. Having a vehicle this big means you will likely be asked for favours when it comes to tip runs and house moves.
Two trim levels keep things simple for customers, while Citroen has focused on delivering comfort for all occupants. There's Bluetooth plus cruise control to take the strain out of longer drives.
Vauxhall Vivaro-e Life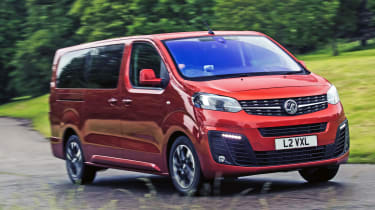 Underneath the badges, the Vivaro-e Life is the same car as the e-SpaceTourer. So that means up to nine seats, up to 140 miles of driving between charges and an electric motor that develops 134bhp. Fast-charging is available on both; an 80 per cent top-up at a public charger takes around half an hour.
Bizarrely, the Vauxhall requires a considerably smaller advance payment than the Citroen, although it's still not cheap at around £3,000. That's for the base Combi model which is aimed primarily at taxi and shuttle bus operators. Still, Vauxhall fits phone connectivity, hill start assist and air conditioning, so it's not completely sparse inside.
If you can stretch to the Elite version, you get a much more luxurious experience including heated massaging front seats.
Have you ever owned one of our best MPVs for Motability? Give us your review in the comments section below...