Best small cars for Motability 2022
Small cars offer Motability users transport to get from A to B, but there's much more to our three picks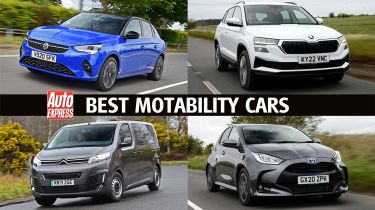 Some Motability users just want to get mobile, so a small car is all that's needed. There are plenty of city cars available on the Motability scheme, and the majority of these come with a nil advance payment deal.
Our picks for the best small cars on Motability offer the most practicality in the city car sector, with wide opening doors and space inside to carry everything you might need, although not necessarily all of it in the boot, so easy-folding back seats are also a highlight. These cars are easy on the wallet as well, with some of the lowest running costs of any cars on sale, and they're not afraid of venturing beyond city streets for longer runs on the motorway, either.
Our top three small cars for Motability customers are listed below…
Kia Picanto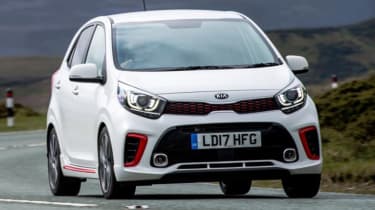 Whichever way you look at it, the Kia Picanto is one of the most affordable cars money can buy. That goes for everything from list price and insurance, to fuel and other consumables – even the brightly coloured option packs offer decent value.
There's a choice of 1.0-litre three-cylinder petrol engines, though the non-turbocharged unit is very sluggish at higher speeds.
There's no three-door Picanto model and access via the wide-opening rear doors makes getting in and out of the back infinitely easier. There are two seating configurations; with the four-seat model offering improved emissions. The five-seat car is more versatile though, giving buyers the option of carrying an extra passenger if the need arises.
Kia has built a hard-earned reputation for reliability over the past two decades, cemented by a bold seven-year/100,000-mile warranty. In our 2022 Driver Power survey, the Picanto was voted Best city car, with customer feedback highlighting the Picanto's cabin as a comfortable place to be, with good all-round visibility. Buyers were also happy with the user-friendliness of the physical controls and the functionality of the infotainment – including the sat-nav and smartphone connectivity.
Volkswagen up!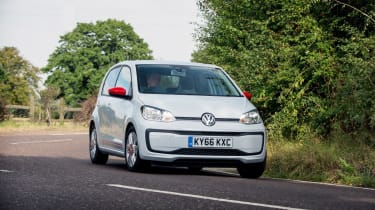 The Volkswagen up! is more sophisticated than its size and looks suggest. It's comfortable, feels stable on the road and is enjoyable to drive. It's designed to work in town, but it's not overwhelmed by the occasional motorway trip, although the long gearing does make it labour a little.
Volkswagen doesn't offer a diesel engine with the up!, so all three and five-door versions come with a 1.0-litre three-cylinder petrol unit under the bonnet - and all come in with nil advance payment. A five-speed manual gearbox is standard on all petrol models besides the GTI, which gets six speeds but isn't available for Motability leases at the time of writing.
The small size of the up! means it lends itself perfectly to navigating the narrow streets and tight car parks, so it fits the brief of a city car very well. The tight turning circle makes it particularly good for nipping in and out of traffic and it's a doddle to park.
There are numerous trim levels available and VW has introduced some customisation upgrades, allowing buyers to choose from a variety of bold dashboard finishes that contrast with the body-coloured trim inserts on the doors.
While it isn't as big inside as the Polo supermini, the up!'s versatile interior should prove practical enough. The comfortable, upright driving position and good all-round visibility make it very easy to pilot. It is worth noting that the up! comes with a smartphone holder rather than a touchscreen, so you may miss out on some of the car's features if you don't have a compatible device.
Hyundai i10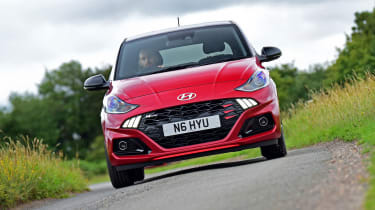 A new version of the Hyundai i10 was launched in 2020, taking all the best bits of the old one and adding more stylish looks and technology. It shares a number of parts with the Kia Picanto above, and feels more premium than rivals like the Toyota Aygo and Peugeot 108.
The solidly built interior also comes with far more technology than you used to get on a city car. Our favourite SE Connect trim features a touchscreen with smartphone mirroring, digital radio and the display for the reversing camera, and other standard equipment includes air conditioning, electric windows and cruise control. Premium even adds heaters for the seats and steering wheel.
The i10 uses the same 1.0-litre petrol engine as the Picanto. It's good around town and gives the flexibility to travel on faster roads from time to time, as well. An automatic gearbox is available if you can't have or don't want a manual, and neither will use up your full weekly allowance.
The i10 is also one of the most practical city cars on sale, coming with a decent 252-litre boot and enough space for four adults to be comfortable.
Even the top-spec N Line trim level with the most powerful engine doesn't need an initial payment, and you'll only pay a little extra if you wanted to add the optional tech package.
Have you ever owned one of our best small cars for Motability? Give us your review in the comments section below and for a great price on your current car, try our 'sell your car' tool...