Great new small cars 2014
With the new Vauxhall Corsa on the horizon, we round up six more key small cars that are on the way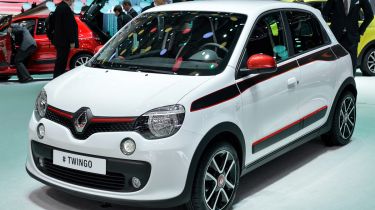 The Vauxhall Corsa may be a perennial British favourite, but the latest model will have to be good if it's to take on the latest bunch of upcoming superminis.
This class has never been more competitive, with buyers demanding ever more 'big-car' tech, safety and refinement, plus the lowest possible fuel consumption and emissions.
Over the next 12 months there's a raft of new superminis arriving in showrooms, from the radical rear-drive Renault Twingo to another all-new MINI and the next Smart ForFour. Here, we round up the big hitters, and reveal why each one deserves to be on your test drive list later this year. No pressure then, Vauxhall.
New Vauxhall Corsa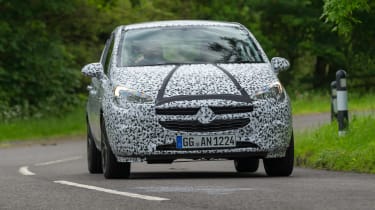 This new car carries over the basic chassis architecture and dimensions unchanged, but Vauxhall claims the way it drives and looks is a world apart.
Even under camouflage, the new Adam-inspired face and swept-back headlights are obvious. The interior of the car we drove was draped in black cloth, but we got a peek underneath and saw a much more premium, Adam-style dash design, too.
Toyota Yaris facelift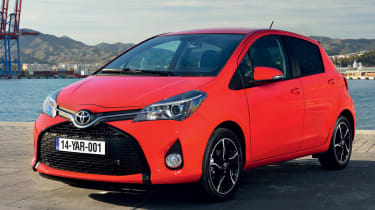 Toyota is keen to ditch the Yaris' staid image, and a radical, Aygo-inspired facelift will help, with a bold new grille and intricate lights. It's backed up by a plusher cabin, and Toyota's even raised the centre console to give shorter, snappier shifts from the manual gearlever.
Across the car, 1,000 parts are new, while the big news under the bonnet is that the Yaris Hybrid promises even better efficiency. CO2 emissions will drop from 79g/km to a Congestion Charge-dodging 75g/km, plus it claims 85.6mpg.
New Skoda Fabia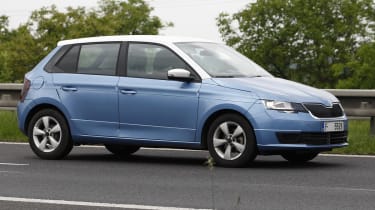 This very latest spy shot reveals a more angular look for Skoda's new supermini that'll help it slot into the range between the clean-cut Rapid and Octavia. Wider, lower and reportedly lighter than the current Fabia, the new car shares its platform with the Audi A1 and VW Polo, plus its engines.
Renault Twingo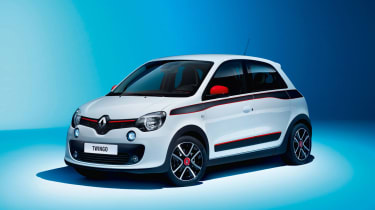 Renault will shake up the class by replacing the lacklustre MkII Twingo with a new rear-engined, rear-wheel-drive model. The space-efficient set-up shares components with Smart's resurgent city car range, although this official picture shows the Twingo promises a cheeky look all of its own.
Mazda 2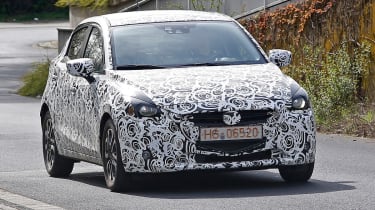 Our spy shot hints that Mazda's lightweight new 2 will carry over the well received styling of the Hazumi concept seen at March's Geneva Motor Show. It'll feature small, naturally aspirated engines, and if the recent new 3 is anything to go by, the handling should be pretty good, too.
Smart ForFour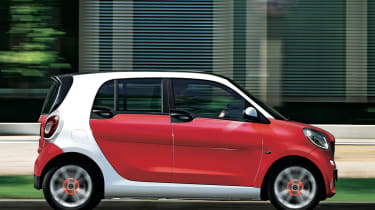 Image: Larson
The reborn five-door Smart is shaping up well, as our exclusive image shows. It shares its rear-engine/rear-drive platform with Renault's new Twingo, and a long wheelbase and tiny overhangs should maximise space. We've been promised plenty of new tech and a premium cabin as well.
MINI five-door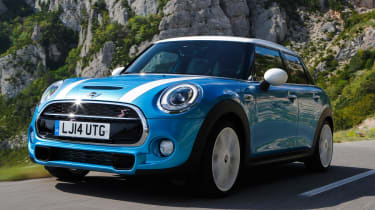 The MINI will be sold as a five-door hatch for the first time, from next year. It uses the Clubman estate's longer wheelbase and has a stretched roofline. Engines will match the three-door's and it'll be priced below the Countryman crossover.