Best company cars £15,000 to £20,000
Best company cars if your budget is between £15,000-£20,000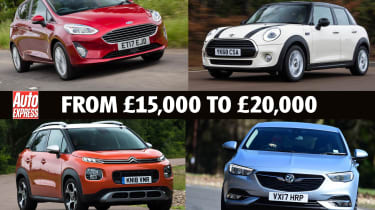 Ford Fiesta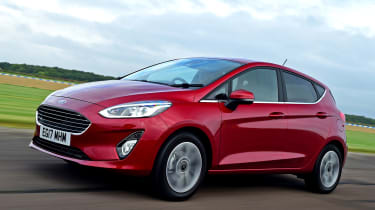 Model: Ford Fiesta 1.0 EcoBoost 100 Zetec 5drPrice: £16,715Engine/power: 1.0-litre 3cyl/99bhpCO2/BiK band: 106g/km/25 per cent0-62mph/top speed: 10.5 secs/114mphMonthly BiK Bill high rate: £138Monthly BiK Bill low rate: £69
It's no surprise that the Ford Fiesta makes it onto this list. It's our favourite supermini and has been Britain's best-selling car for more than a decade, thanks to its blend of a great driving experience, peppy performance and lots of kit for a reasonable price. There's also a range of efficient engines that helps keep your company car tax bill down.
That's why we've selected Zetec spec as our pick. Although it sits towards the lower end of the line-up, this Fiesta still comes with an eight-inch touchscreen that features Apple CarPlay and Android Auto, giving users a form of sat-nav if they hook up their smartphone.
The 99bhp engine delivers more than enough performance in a car that's as lightweight as this and, because of its 106g/km CO2 emissions, it does so without harming the environment – or your wallet – too much. It's also one of the most fun drivers' cars at any price. Go for the five-door model, though; while its 311-litre boot is bettered by rivals', cabin space is good and access easier.
Toyota Yaris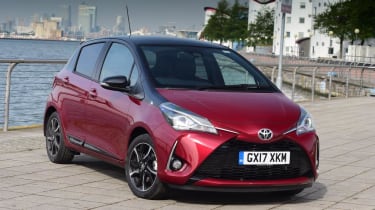 Model: Toyota Yaris Hybrid Icon TechPrice: £18,740Engine/power: 1.5-litre 4cyl hybrid/99bhpCO2/BiK band: 84g/km/22 per cent0-62mph/top speed: 11.8 secs/102mphMonthly BiK Bill high rate: £136Monthly BiK Bill low rate: £68
The cost of hybrid tech means that this budget only gets you a petrol-electric supermini – but it's worth a look if you spend most of your time in town. Toyota's Yaris uses a 1.5-litre petrol engine mated to an electric motor and a CVT. Its performance isn't stunning, but the car is easy to drive and fairly relaxed as long as you don't work the powertrain too hard.
While the Yaris isn't quite as spacious as some superminis, its 84g/km CO2 emissions put it in the 22 per cent BiK tax bracket, so lower-rate earners pay only £68 per month. It'll be cheap to fuel, too, which will keep running costs down. If you can look past the Yaris's shortcomings then this is a wise choice.
MINI Cooper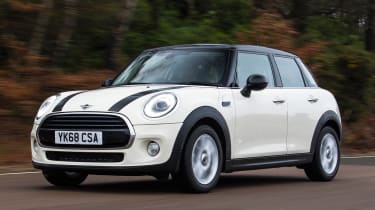 Model: MINI Cooper 1.5 Classic 5drPrice: £18,330Engine/power: 1.5-litre 3cyl/134bhpCO2/BiK band: 123g/km/28 per cent0-62mph/top speed: 8.3 secs/129mphMonthly BiK Bill high rate: £169Monthly BiK Bill low rate: £85
If you're after a small car with a premium feel, the MINI has been the go-to model for nearly two decades since BMW relaunched the brand at the turn of the century.
This latest, third-generation MINI is plush, but it can end up being pricey, because there's not much standard kit in Classic trim (one of three variants, along with Sport and Exclusive) and you'll want extras. Pick them wisely, because they will send the BiK bill rising. However, the 1.5-litre petrol engine and six-speed manual gearbox are great and worth the outlay. Likewise, the MINI is rather cramped in the rear seats and boot, but the style and involving driving experience still justify the price.
Otherwise, day to day, the MINI is a model company car, with an image that suits almost every occasion.
Vauxhall Insignia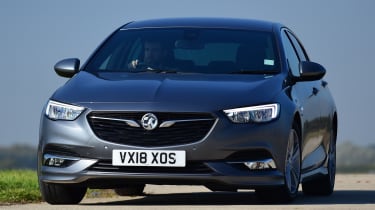 Model: Vauxhall Insignia Grand Sport 1.5 Turbo DesignPrice: £19,940Engine/power: 1.5-litre 4 cyl/138bhpCO2/BiK band: 129g/km/29 per cent0-62mph/top speed: 9.3 secs/130mph Monthly BiK Bill high rate: £191Monthly BiK Bill low rate: £95
For just less than our limit in this price bracket, you can get into an Insignia with the 138bhp 1.5-litre four-cylinder petrol turbo. In a body as lightweight as the Vauxhall's, performance is more than adequate and the good low-down torque makes motorway cruising relaxing. That's where this kind of car is likely to spend a lot of time, but if you think that basic Design trim lacks the kit you'd want, you'd be wrong.
Air-con, a seven-inch touchscreen with Bluetooth, Apple CarPlay and Android Auto, plus keyless start, are all standard. Vauxhall's Driving Assistance Pack One is included as well, and that gives you collision warning with autonomous braking and lane-departure warning. This will be a big boon considering how many miles business users will cover.
A roomy cabin and a big hatchback that allows access to a 490-litre boot mean the Insignia has practicality covered, too, while the ride quality is supple on 17-inch alloy wheels.
SEAT Ibiza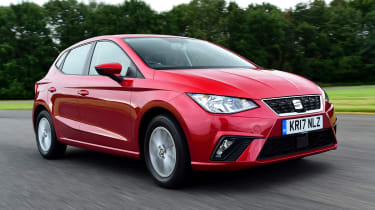 Model: SEAT Ibiza TSI 95 SE TechnologyPrice: £16,595Engine/power: 1.0-litre 3cyl/94bhpCO2/BiK band: 105g/km/25 per cent0-62mph/top speed: 10.9 secs/113mphMonthly BiK Bill high rate: £137Monthly BiK Bill low rate: £68
SEAT came on in leaps and bounds in almost every area when it launched its latest Ibiza. Every version features five doors, so practicality is a given, and this supermini is so versatile that it can occasionally operate as a family car, thanks to its roomy rear seats and 355-litre boot.
Some of the interior plastics are cheap, but the driving experience is nearly as sharp as the Ford Fiesta's and the damping almost as plush. Meanwhile, the 1.0 TSI engine serves up 94bhp and plenty of smooth acceleration,and what the Ibiza lacks in dynamism compared with the Fiesta it more than makes up for in usability.
The infotainment is a big part of this, too, and SE Technology trim has an eight-inch touchscreen with Apple CarPlay and Android Auto, giving plenty of functionality. Its modest CO2 emissions of 105g/km keep a low-rate taxpayer's BiK bill down to £68, so it makes a fine choice.
Citroen C3 Aircross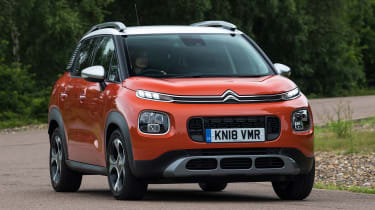 Model: Citroen C3 Aircross PureTech 110 FeelPrice: £17,850Engine/power: 1.2-litre 3cyl/108bhpCO2/BiK band: 109g/km/25 per cent0-62mph/top speed: 10.0 secs/112mphMonthly BiK Bill high rate: £147Monthly BiK Bill low rate: £74
The Citroen C3 Aircross is our favourite small SUV. So if you want something more individual than a supermini and with much more practicality, this is the car for you.
This version easily slots into this price category and gets a seven-inch screen with Apple CarPlay and Android Auto. However, we'd spend an extra £490 on the good-value Family Pack, which includes a sliding and split-folding rear bench seat, as well as autonomous braking.
The Aircross does wallow in corners but it's comfortable, while the 1.2-litre turbo engine proves a more willing companion than the chassis. It has 108bhp and thrums away merrily, delivering good low-down shove, and the low emissions translate into appealing BiK bills.
Best company cars by price bracket
• Best company cars £15,000 to £20,000