The top ten best cars for interior and comfort
Driver Power asked UK new car buyers about their cars' interior and comfort, here are the top ten highest rated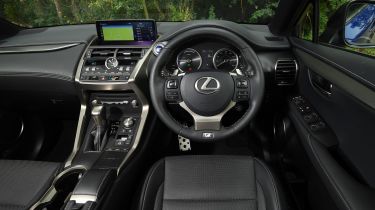 Covering: Interior styling, quality of the interior finish and materials, front-seat comfort, all-round visibility from the driver's seat, rear-seat legroom
Winner: Lexus NX
Score: 94.14%
As somewhere drivers and passengers will spend countless hours, a car's interior needs to be a pleasant environment.
Comfort is important, as is visibility from the driver's seat, rear legroom and build quality – the latter especially so considering the amount of wear and tear a cabin suffers with daily use. The Lexus NX won this category by having excellent scores in all these areas, and proving it ticks pretty much every interior box.
The Japanese brand has a reputation for building cars to an exceptionally high standard, and owners say the NX's cabin lives up to that, with a strong sense of solidity being backed up by high-quality materials. You also told us that the NX has plenty of space in its rear seats, with this practicality being complemented by a stylish cabin that offers drivers excellent all-around visibility.
Owners also praised the NX for its very comfortable front seats, with the driver's noted for being easily adjustable both in terms of position and support, making long journeys all the more enjoyable.
Your view
"Interior styling is good on the NX. The seats are comfortable and you can adjust both the driver's seat and steering wheel easily. Controls are all well positioned, too."
Interior and comfort top 10
Model

Class

Overall Position

Overall Score

Category Score

Lexus NX

Premium Mid-Size SUV

13

90.15%

94.14%

Mazda CX-5

Mid-Size SUV

3

91.65%

93.45%

Kia Rio

Supermini

2

92.16%

93.38%

Volvo XC40

Premium Small SUV

8

90.60%

92.93%

Nissan Juke

Small SUV

26

88.40%

92.88%

Skoda Kodiaq

Large SUV

6

90.92%

92.27%

Audi Q3

Premium Small SUV

22

89.24%

92.13%

Skoda Karoq

Mid-Size SUV

5

91.00%

91.77%

Honda CR-V

Mid-Size SUV

25

88.49%

91.66%

Kia Sportage

Mid-Size SUV

9

90.51%

91.63%
Click here to tell us about your car in the Driver Power survey...