BMW raises CO2 figures across range under new WLTP tests
Every model in the BMW range has been retested in accordance with WLTP tests, with higher CO2 recorded and lower fuel economy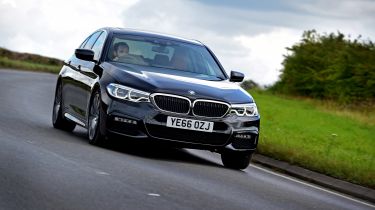 BMW has revealed revised fuel economy figures and CO2 outputs for its entire line-up, now all tested under new Worldwide Harmonised Light Vehicles Test Procedure (WLTP) protocols.
The new stricter tests, intended to deliver more 'real world' results, mean that CO2 figures are up across the board, while BMW's models are now less fuel efficient on paper, compared to previous figures obtained under outgoing New European Driving Cycle (NEDC) tests.
Introduced in September 2017, WLTP testing is now compulsory in Europe for new vehicle approvals, though is largely communicated with a calculation translating figures back to NEDC for comparison's sake. This transitional phase will be in place until September this year, when all manufacturers selling vehicles in Europe will be obliged to test vehicles under WLTP and publish results solely under the new testing banner.
Compared to the 20-minute NEDC procedure, the WLTP test lasts half an hour and runs over a 14.6-mile course. Vehicles spend 13 per cent of the test stationary – less than the 25 per cent idle time of the old NEDC test. All equipment options and extras are brought into consideration too, with tests exposing small differences in weight and aerodynamics brought about by specific optional extras.
For BMW, the revised WLTP figures mean changes at both the top and bottom ends of the firm's line-up. For instance, the 116d SE's official CO2 has risen from 94g/km to 111g/km, with fuel combined fuel economy dipping from 78.5mpg to 67.3mpg. The 520d 5 Series – the most popular model in the 5 Series line-up – jumps from 108g/km to 119g/km.
Read more about the new WLTP emissions and fuel economy tests here...