"The BMW M2 will put a smile on every petrolhead's face"
Editor-in-chief Steve Fowler is glad manufacturers haven't stopped developing petrol engines just yet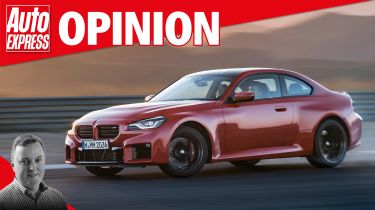 Take a look at the front cover of this week's issue of Auto Express and see if you can notice something a little unusual. I can't remember when we last had a front cover without an all-electric car on there! Sure, we've got hybrids, but nothing that's pure electric.
That will come as a relief to some – and we know there are plenty of petrolheads who just aren't turned on by electric cars. The inexorable march of electrification continues, but cars like the new BMW M2 show that manufacturers haven't stopped developing petrol engines just yet – and the M2 looks like it's going to be another incredible M car.
When it comes to managing the gentle switch from petrol (and diesel – yes, still) to electric, there are two car makers who are doing it best: BMW and Porsche. They're not forgetting their existing fans and customer base, yet the electric and electrified models they're producing are some of the best out there. The reason: they're still core to what both brands do best – producing excellent driver's cars that are increasingly easy to live with. You've only got to look at the similarities in the dynamic specifications of the latest batch of electric cars from these brands – the chassis tech often crosses powertrains.
You might argue that both companies' styling teams have seen better days, but when it comes to producing something that thrills you whatever journey you're on, BMW and Porsche seem to have got it down to a T.
Toyota, too, is a company that has a renewed focus on driver appeal, and maybe working with BMW on the Z4/Supra siblings has paid off for the Japanese brand. Word is that the next C-HR won't be going all-electric, but will be sticking with a hybrid powertrain for now, too.
Suddenly, 2030 and the planned ban on purely petrol or diesel cars doesn't seem quite so close. There's still just about room for another cycle of petrol products with seven or eight-year lifespans – let's make the most of them.
Click here for more information on the new BMW M2...