BMW M3 Coupe Limited Edition 500
We drive the new Edition 500 version of the BMW M3, which offers lots of kit and driving thrills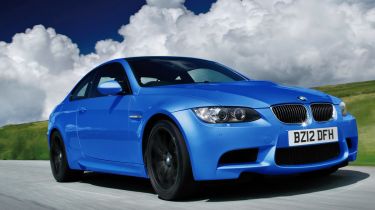 This limited-edition M3 is a timely reminder of just how high the dynamic benchmark has been set for the all-new model. There are places where it's starting to show its age – mainly inside – but even with the extra kit on board, it still provides the kind of raw driving thrills that are hard to match at any price.
The new BMW 3 Series has arrived to rave reviews but buyers looking for a performance version will have to wait until at least 2014 for the all-new M3.
In the meantime, BMW has launched several limited-edition versions of the current model to keep it feeling fresh. This Edition 500 model comes packed with £4,000 worth of optional extras for just a £1,000 premium over the standard car.
There are three unique paint colours to choose from - Imola red, Mineral white or the Santorini blue of our test car - plus menacing gloss black 19-inch alloy wheels. The individual interior with luxuries like sat-nav, bespoke leather and piano black trim, with laser cut designation showing you're driving one of the 500 models.
Despite having been on sale for nearly five years, the enclosed cabin still looks great and both the small thick-rimmed steering wheel and stubby dual-clutch gearlever leave no doubts about the M3's performance credentials.
The Edition 500 does without any mechanical changes underneath but there wasn't much wrong with the naturally aspirated 4.0-litre V8 to start with. Push the 'M' button on the steering wheel and pull one of the shifter paddles forward, and it roars into life and the 414bhp still has the power to thrill.
The seven-speed M DCT gearbox provides lightning quick shifts and loud throttle blips on the way down and you can choose how abrupt you want the changes to be, too. It feels tremendously fast and superbly balanced on demanding roads and thanks to the optional (£1,325) electronic dampers, the ride remains composed on even the bumpiest surfaces.
The perfectly weighted steering and strong brakes mean it still leads the way when it comes to sports saloons, but there is a price to pay for all the power. Unlike the turbocharged new M5, the M3 doesn't come with any fuel saving technology and if you drive it with intent, you're unlikely to see more than mid-teens for every gallon of unleaded.