New BMW 3 Series Touring vs rivals
The BMW 330d Touring goes head-to-head with its Mercedes and Audi rivals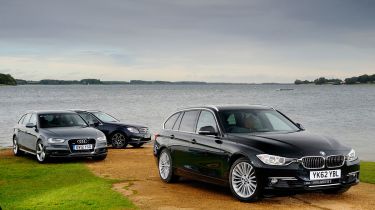 The ever-growing glut of crossovers, SUVs and MPVs means that traditional compact family estates are often overlooked. Yet these practical and handsome machines are every bit as family friendly and desirable as their fashionable rivals – especially when they feature a premium badge on the bonnet.
BMW is certainly hoping its all-new 3 Series Touring can make a big splash in this market. The car has a bigger boot and more spacious cabin than its predecessor, and should build on the class-leading success of its saloon brother. As with every BMW, the Touring also aims to be great to drive, well built and cost-effective. We test it in range-topping £37,200 330d Luxury guise.
However, before BMW can start popping the champagne corks, the Touring must face a pair of talented rivals. First up is our current favourite in the upmarket compact estate class: the Mercedes C-Class. It's spacious, comfortable and beautifully built, and is the latest in a long line of fine Merc estates.
Finally, there's the facelifted Audi A4 Avant, which promises lower emissions and sharper handling than before. It's also the only car here with the security of four-wheel drive.
Verdict
On paper, these three desirable estates are evenly matched. It doesn't take long with a tape measure and calculator to realise that each has been carefully benchmarked against the other. Yet in the final reckoning, the BMW takes a surprisingly comfortable victory.
While it's barely any bigger than the Mercedes or Audi, the 3 Series is faster and sharper to drive, plus it uses much less fuel, is cheaper to tax and costs less to service.
Factor in desirable details such as the separate-opening glass tailgate, and the Touring takes a well deserved win.
Separating the Audi and Mercedes is tougher. The A4 is more engaging and boasts a brilliant four-wheel-drive system, but it also has a smaller boot and is hobbled by a firm ride – and when it comes to family friendly estates, hardcore driving dynamics should take a back seat to comfort. As a result, the refined and roomy Mercedes edges into second place.
Yet both have to give best to the BMW, which in 330d form is all the compact estate you'll need.