Hydrogen fuel-cell power could be 'no cost option' for BMW EV buyers
Hydrogen programme boss reveals firm's vision of a fuel-cell powered future as iX5 Hydrogen 'pilot fleet' arrives in UK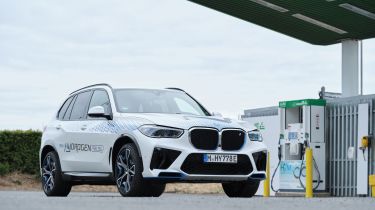 Hydrogen fuel-cell powertrains that can be refuelled in minutes could be a no-cost alternative to batteries across a range of BMW electric car models by 2035, as new compact hydrogen fuel tank technology allows the maker to cheaply package hydrogen storage in vehicle platforms designed for both energy sources.
While fuel cell electric cars (FCEVs) such as the Toyota Mirai have been around in limited production for several years, extremely scarce refuelling options and high prices have made them an expensive and impractical proposition for all but a handful of users. According to BMW's hydrogen programme chief Juergen Guldner though, in volume production FCEVs are potentially cheaper and more sustainable to build than BEVs, as they use 90 per cent less battery material, yet will feature new design solutions allowing BEV and FCEV versions of the same model to share a single 'skateboard' style platform, as well as multiple drivetrain components. 
We're told that while BMW's latest FCEV prototype, the iX5 Hydrogen, has two large gas tanks located centrally in the vehicle, suppliers have worked hard to produce much smaller tanks which can be sited in multiples within the chassis compartments otherwise used for battery storage in future EV models, while retaining the same strength and overall capacity of 6kgs of hydrogen gas. Innovations such as this, and the fact that it's much cheaper and easier to recycle FCEVs at end of life compared to BEVs, will make it possible for BMW to contemplate offering fuel cell power as an alternative to batteries at comparable prices, Guldner suggests.
The signs are that the first BMW fuel cell-powered EV (FCEV) to go on sale is likely to be a variant of a new iX electric crossover, with series production starting sometime before 2030. BMW has yet to officially announce a production future for any fuel cell powered model, but the Bavarian firm's hydrogen boss has confirmed that BMW's fuel cell strategy is modelled on its roll-out of battery-powered cars (BEVs). That programme started with a series of pilot fleet MINI E and BMW Active E models which were publicly tested and assessed at length, before the company progressed to a single first production EV - the recently discontinued i3. Now BMW has four fully-electric models in its line-up, and all its next generation cars will be BEVs.
According to BMW's hydrogen chief, the latest iX5 Hydrogen is in a similar pilot phase as the original MINI E, and "if market conditions are right" we can expect a similar phased roll-out of hydrogen fuel-cell powered models.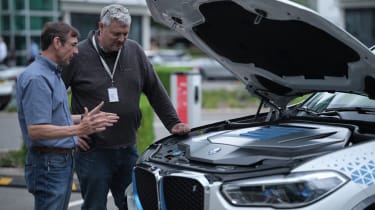 Auto Express caught up with Guldner and four vehicles from the iX5 Hydrogen pilot fleet at BMW's UK headquarters yesterday, and while he wouldn't confirm what the first production model might be, he suggested the iX5 Hydrogen prototype offered "a very good clue" in terms of its size and market position.
Hydrogen filling stations are still vanishingly rare in the UK compared to some other global markets, but even here there are moves afoot to slowly increase availability of the fuel. The situation is set to change much faster in the European Union, where a new law will soon mandate that member nations must install a network of 700-bar hydrogen filling stations suitable for passenger cars at no more than 200km (125-mile) intervals on major routes, and in every population centre of more than 100,000 residents. This means a minimum of 600 filling stations will be in place by 2030, which Guldner told us will "open the door" for BMW's fuel cell programme.
Partnership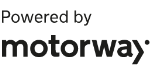 Need to sell your car?
Find your best offer from over 5,000+ dealers. It's that easy.
The company believes its fuel cell models, developed using core technology bought-in via a long-standing technical partnership with Toyota, will appeal to a number of customers dissatisfied with the charging and range compromises imposed by battery-only EVs.
"We're hearing from people who don't have electric charging at home or at work," says Guldner, citing the experience of colleagues in Munich whose residential buildings don't have sufficient electrical capacity to install individual chargers. He also referenced people who drive a lot but need a lot of flexibility, and don't want to plan their lives around the electric charging needs of their car, repeating a quote from one potential customer who said: "When travelling I'd like to eat where I enjoy the food, and not where there's an electric charge point available." Other potential fuel cell buyers may live in colder climates where EV battery range can be seriously compromised, while some might value the ability to tow boats or horse trailers without range anxiety, he says.
The UK government currently appears out of step with the EU and other key markets like the USA and China on the issue of supporting infrastructure development for passenger FCEVs. However, BMW has confirmed that Guldner will be demonstrating the iX5 Hydrogen, and making the case for fuel cell powered passenger cars, to various civil servants including a delegation from the Department for Transport during his visit.
What's your view on the future of hydrogen cars in the UK? Have your say in the comments...