BMW 7 Series (2008-2015) review
The BMW 7 Series saloon is a technological tour de force, but it lives in the shadow of the S-Class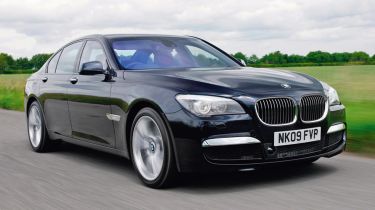 The BMW 7 Series has always struggled to match the many benchmarks set by the Mercedes S-Class, but it isn't for want of trying. With a stellar line-up of petrol and diesel engines, handling that owes more to the brilliant 5 Series than a proper limousine and a host of hi-tech gadgetry, the understated 7 Series is still a great choice. It was given a facelift in the summer of 2012, with a series of design tweaks, more efficient engines and a whole host of new cutting-edge technology. The BMW ActiveHybrid 7 Series was also introduced in 2012 as a rival for the Lexus LS600h. But with a starting price of almost £70,000, the petrol-electric model is only likely to make up a handful of UK sales. There's also a long-wheelbase version, which provides improved rear legroom and is therefore an excellent choice for chauffeurs. The all-new 7 Series isn't due to be launched until 2015, but a prototype model has already been seen cold weather testing in the Arctic Circle. The new car looks to get a more tapered design and will be significantly lighter than the car it replaces, but there are also rumours that a plug-in hybrid version is under development alongside a revised range of efficient turbocharged petrols and diesels.
Engines, performance and drive
The 7 Series is remarkably agile for a car of its size. All versions benefit from hi-tech Drive Dynamic Control with variable dampers, which serves up five settings; ECO PRO, Comfort, Comfort+, Sport and Sport+. As a result, it can challenge much smaller models for driving thrills. There's also an option for electronically controlled four-wheel steering, which boosts manoeuvrability around town and sharpens responses at higher speeds. Sadly, even in its softest setting, the suspension fails to deliver the sort of cosseting ride you'd expect from a luxurious saloon of this size, despite being fitted with new rear dampers, suspension bushes and air-suspension. The engine line-up was heavily revised as part of the facelift. There are two diesel options – a 254bhp 730d and 309bhp 740d – as well as a total of four petrol options, including a 316bhp 3.0-litre six-cylinder turbocharged engine in the 740i and a range-topping 536bhp 6.0-litre V12 engine in the 760i. All 7 Series models now get BMW's smooth and responsive eight-speed automatic gearbox as standard, as well as stop-start, brake energy recuperation and electric power steering. The ActiveHybrid 7 is powered by a 3.0-litre six-cylinder petrol engine combined with an electric motor, for a total output of 349bhp and a 0-62mph time of 5.7 seconds. It's capable of travelling on electric power alone for a few miles, but there isn't a selectable electric-only mode and the petrol engine is always eager to get involved.
MPG, CO2 and Running Costs
There's no getting away from the fact that owning a 7 Series is likely to incur seriously high running costs, but the BMW is better than some of its rivals here. If you go for the most efficient 730d, it has a claimed fuel consumption figure of 50.4mpg and CO2 emissions of 148g/km. The 740d also falls into the same tax bracket, with emissions of 149g/km and average mpg of 49.6. As for the petrols, the cheapest 7 Series to buy is the 740i and that manages 35.8mpg and emits 184g/km, but the range-topping 760i is less impressive, at 21.1mpg and 314g/km. The ActiveHybrid 7 is surprisingly inefficient, though, as it's claimed to return 41.5mpg and emits 158g/km of CO2. All new models come with a five years or 60,000 miles of free servicing as standard, but they also suffer from brutal depreciation and shed much of their value in the first few years of ownership.
Interior, design and technology
The 7 Series has always struggled to match the imposing styling of rivals like the Mercedes S-Class and Audi A8. The styling is a bit conservative, especially when you compare it to the stylish Jaguar XJ. The 2012 facelift brought new LED headlights with BMW's signature 'Corona' rings, a new kidney grille with fewer slats, and a reshaped front bumper to help channel air more efficiently around the front wheels. However, despite the changes and its imposing size, the 7 Series still lacks impact. The changes were more obvious inside, with new thinner front seats, more sound-proofing and the addition of a 16-speaker Bang and Olufsen stereo. The options list includes a Rear Seat Entertainment package, which adds 9.2-inch monitors in the headrests for the benefit of rear seat passengers. There's also an optional 10.25-inch black panel screen that replaces the traditional instrument cluster and changes its appearance based on which driving mode you're in – Eco Pro, Comfort or Sport. For example, selecting Eco Pro mode turns the display blue and morphs the rev-counter into an efficiency dial, while in Sport the panel glows red and the speedometer and current gear are most prominent.
Practicality, comfort and boot space
As you'd expect given its giant dimensions, the 7 Series is very spacious. Every version comes with acres of rear legroom, too, especially if you go for the stretched wheelbase model, ensuring it ticks all of the important luxury saloon car boxes. We think SE trim is the sweetspot in the range, as it comes with rear parking sensors - essential on a car of this size - and a soft-close tailgate as standard, so you won't disturb your passengers by slamming the boot shut. The revised model also has a feature that opens the boot with a wave of your leg underneath the rear bumper. Once opened, you'll discover a useful 500-litre boot, which is slightly less than the XJ and S-Class' figures of 520 and 560 litres respectively. However, opting for the ActiveHybrid model means you lose 140 litres of boot space to the battery pack
BMW is traditionally a strong performer in our annual Driver Power satisfaction survey, although it hasn't scored as highly with our readers as fierce rivals Mercedes. It finished 14th out of 30 in the 2012 manufacturer results, and although the 7 Series is a bit too rare to have featured in the Top 100, the latest 5 Series finished a very impressive 11th on its debut. The 7 Series has never been subjected to a Euro NCAP crash test, but it would almost certainly receive a five-star result. Every version comes loaded with safety kit, including a whole host of airbags, electronic stability control, adaptive xenon headlamps and brake lights that get brighter the harder you brake. A Lane Departure Warning system, a Head-up Display and even Night Vision are available on the options list - although we rather think the latter is a gimmick rather than a serious driver aid. There's also a new system that recognises pedestrians in the dark and highlights them with a beam of light, which is unique to BMW.
Next Steps
Which Is Best
Cheapest
Name

730d 4dr Auto

Gearbox type

Semi-auto

Price

£69,510
Most Economical
Name

730d 4dr Auto

Gearbox type

Semi-auto

Price

£69,510
Fastest
Name

M760Li xDrive 4dr Auto

Gearbox type

Semi-auto

Price

£138,670