BMW launches new online car buying scheme
New BMW Retail Online will enable you to buy a BMW in less than ten minutes, day or night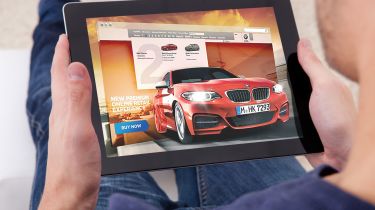 BMW has launched a new way of buying a new BMW, with customers able to explore, spec, order, part exchange, have finance approved and arrange delivery all online and in the space of just ten minutes.
BMW Retail Online, available via www.BMW.co.uk, will take customers through a step-by-step approach to choosing the right car and getting a finance quote, before passing them through to a dealer to complete the transaction.
BMW asks each user four simple questions to then suggest the most suitable car from the entire BMW model range, plus a couple of alternatives. It'll even make specification suggestions, based on the most popular orders from buyers with similar needs, to reduce the need to trawl through the hundreds of different options available.
Customers can even see an estimated delivery date for their new car, and if it's too far away the system will make alternative suggestions to reduce the wait, either with a slightly different spec or from cars in BMW stock. At every stage, there's the option to talk, email or chat online with one of BMW's Genius product specialists. These UK-based call-centre operatives are similar to those found in BMW dealers who are salaried rather than being paid commission based on sales.
Finance options can also be explored online before the user is passed through to their local dealer – although other dealers can be chosen. The dealer will then offer a test drive and finalise the deal, including getting a finance deal agreed online.
Part exchanges can be taken care of with valuations from Glass's Guide, although dealers will have to confirm the final price subject to a physical inspection.
Announcing the new scheme that launches in the UK before rolling out into other countries, BMW's global sales and marketing boss, Ian Robertson, said: "Digitisation over the next five years will be more than we've seen in the past 100 years – and it'll affect the way we sell and the way we make our cars.
"We know that the number of dealer visits have reduced from 4.5 to 1.5 when buying a car and our dealers are telling us that showroom traffic isn't as good as it used to be, yet they're selling more cars. And we know that 95% of our customers research their purchase online.
"This is making the whole process easier, more comfortable and more transparent."
Now check out our round-up of the best new cars coming in 2016...