"The sands are shifting fast in the car business"
Editor-in-chief Steve Fowler talks about the changes to the hierarchy of automotive manufacturers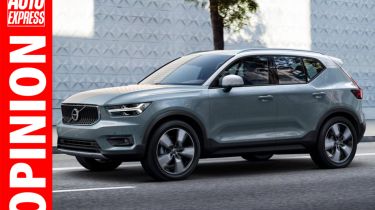 Volvo has been knocking on the door of the premium brands for some time now, but the launch of the new XC40 small SUV proves beyond doubt that it is now firmly established among the world's premium car makers.
Here is a car dripping with desirability due to its combination of style, technology and quality, plus a novel subscription-based ownership plan. It follows on from Auto Express award-winning XC90 and XC60 models, and will likely sell in numbers that will make rivals wince.
• Auto Express Drive Power results
So the pecking order in the premium sector is being shaken up, but what's happening among mainstream makers? The recent Frankfurt show proved yet again that Chinese brands will arrive – eventually. Meanwhile, two existing brands have really caught my eye of late with product and plans that make them ever more appealing. At the same time, some major players seem to be stagnating.
This week we reveal Skoda's plans to produce a hot SUV featuring electrification. Skoda's rise has long been documented in Auto Express, but what is really significant is how the brand is now being allowed to lead the Volkswagen Group in some areas – arguably a smart move when the Group's main brand is still somewhat beleaguered.
Similarly SEAT. Boss Luca de Meo revealed plans for SEAT to lead on technology – one of the biggest battlegrounds in the car world today. "We want to win on connected cars," he told me. "The car will be the next [tech] platform after the mobile phone."
SEAT stole a march on rivals with Amazon Alexa integration, while the next Leon will debut new Group infotainment tech. The pace of change in the car business is so frenetic, the phrase "you snooze, you lose" has never been more applicable.
Do you think Volvo can topple the likes of Volkswagen for sales? Let us know in the comments below.