"Might you soon be driving a Dyson instead of a Dacia?"
Mike Rutherford looks at how the rise in EV manufactures could change the marques we see on UK roads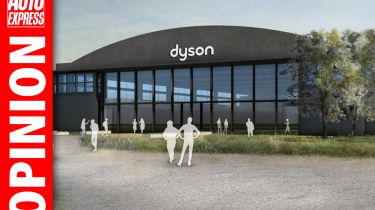 Long, loyal, lasting relationships between motor manufacturers and car buyers are fast disappearing. And loyalty levels will likely reduce further when comparatively simple (and simple to build) 100 per cent electric cars become the norm.
We've seen that all-electric tech gives birth to new marques such as Tesla and Polestar. But countless others – in particular firms currently on the fringe rather than at the centre of car-making – are either thinking about or committed to becoming full-blown manufacturers of fully electric cars.
So could it be that your petrol or diesel-powered BMW is eventually bettered by a more desirable and affordable Bosch-made and branded EV? Might you soon be driving a Dyson instead of a Dacia and, come to that, a Hoover rather than a Honda?
Who's up for a stylish Samsung over a silly Smart car (me!), an Apple not an Audi (not me), an Intel instead of an Infiniti (really not sure)? Cutting-edge companies such as Delphi, Continental, Autoneum, Denso and Visteon have their products in, on or underneath most vehicles built today. So might some or all of these huge and highly respected firms take the next logical step by transforming themselves from automotive component makers to electric car builders?
The same needs to be asked of companies who are – or were – big and successful in the design and manufacture of electrical or related goods. Sony, General Electric (GE), Philips, Hitachi, Kodak, Sanyo and Marconi are a few that spring to mind. But there are dozens of other candidates, from BAE and Bush, to Amstrad/Sugar and Virgin/Branson.
Most of the above must at least be looking into the prospect of getting in on the EV-making act. And that also applies to battery firms such as Duracell, Panasonic and Exide. All-electric cars from Lego and Meccano may sound like a joke, yet are anything but as older kids could design and construct them in school and college workshops – prior to formal driver familiarisation sessions as their last lessons of the day.  
Never mind that Dyson should perhaps concentrate not on all-electric cars but on road sweeping vehicles that will effectively be vacuum cleaners for the streets. And don't forget that Gtech is already selling reasonably priced electric two-wheelers – and therefore may be closer than most to bringing affordable four-wheeled EVs to market.
Do you think conventional manufacturers will have to defend themselves against a raft of new opposition? Let us know in the comments below.