'Premium brands are being caught by less well established rivals'
As the new Dacia Duster arrives, the lines between premium and value brands are becoming blurred, writes John McIlroy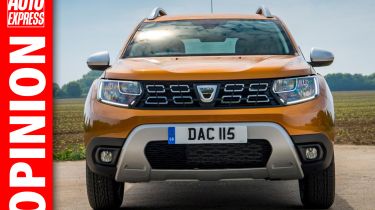 Does premium still mean premium? And even if it does, does anyone really still care? This is one of those issues of Auto Express that could really force us all to think about it.
First up, there's our early drive of the all-new Ford Focus – a car that looks set to bring real quality touches to the cabin, while still offering mainstream pricing and, crucially, a sweet chassis that'll keep keen drivers entertained.
• The cheapest cars on sale in 2018
Then there's our three-car test, which pitches established premium names Jaguar and Alfa Romeo against… Kia. And while I'm not about to issue spoilers, it's worth saying here and now that the Korean brand's Stinger does not disgrace itself in several key areas against the XE and Giulia (indeed, it may well have them licked on interior quality).
Last, but by no means least, there's the updated version of Dacia's remarkable Duster. Renault's no-nonsense brand has tweaked the important bits of its family SUV, resulting in an even more appealing proposition for those who value do-it-all ability and features over image. And that's before you start looking at the monthly deals, which could deliver an entirely respectable spec of Duster for a modest deposit and supermini-style payments.
Indeed, drive around the glamorous Côte d'Azur in southern France and you'll see plenty of Dusters, being driven by well-heeled families who love the car's durability and its capacity to soak up motorways or, in the case of the four-wheel-drive editions, drive up into the Alps to go skiing. It's a car that shows how the lines can become blurred, almost to the point where the Duster is classless altogether. And when that happens, does it really matter if it has a premium badge or not?
Read our review of the all-new Dacia Duster…