"Car makers haven't forgotten how to keep us grinning"
Steve Fowler thinks that sprinkling a little RS, ST, GTI or Type R fun-dust on electric cars could mean happy days ahead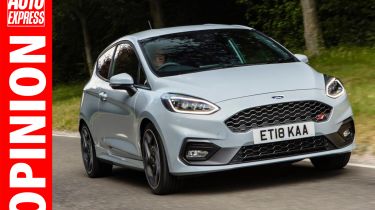 Let's face it, this year hasn't exactly been one that's focused on what we love most about our cars; their ability to put a smile on our faces. So this week we're delighted to have a fun-packed issue that proves the car makers haven't forgotten how to keep us grinning behind the wheel.
And that's exactly what we've been doing with some of the best hot hatchbacks we've ever driven. The joy of turning what is otherwise a run-of-the-mill hatch into something that can thrill on even the most mundane trip to the shops (and then handle the groceries when you get there, too) is something we Brits have been enjoying for years.
• JLR doesn't know if it can remain British after a hard Brexit
So it's great to finally get the latest Renault Sport Mégane on to UK roads against two of our current favourite hot hatches – Honda's Civic Type R and the constantly surprising Hyundai i30 N.
Like the cars on which they're based, these cars offer more quality, tech and ability than ever before – at a higher price than ever before. Which is why we've also loved driving Ford's Fiesta ST in the UK this week.
Ford has long been a master of affordable fun and the new ST is exactly that. It's no less enjoyable than its more expensive brethren (arguably more so), but at a fraction of the price. It's Ford at its best.
Even SUVs are getting in on the act, with the new BMW X4 and Mercedes GLC Coupé proving that you can still have fun sitting a little higher up.
One of the most exciting revelations this week came from Skoda. We've loved its fast vRS models and there are more to come, along with the prospect of eRS all-electric models. Electric cars can be entertaining anyway; sprinkle a little RS, ST, GTI, Type R or N fun-dust on them and we've got more happy days ahead.
Are you excited about the prospect of driving an electric hot hatch? Let us know on the comments below...