Government to close mobile phone law loophole
Use of a handheld mobile phone behind the wheel for any purpose - not just two-way communication - is set to be banned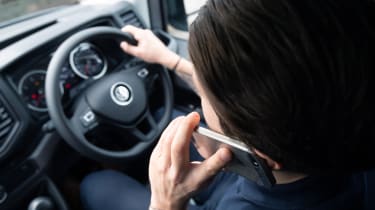 The Government intends to close a legal loophole that only makes the use of a handheld mobile phone behind the wheel illegal if it's being used for two-way interactive communication.
At present, drivers can only be prosecuted for using a handheld phone while driving if they're performing a two-way communication, such as a phone call, texting or using the internet. This means that motorists who use their phones for purposes such as taking photos or shooting video behind the wheel are not technically in breach of the law - something that has been successfully argued in court.
• New laws needed for hands-free in-car phone calls, says expert
Now, though, the Secretary of State for Transport - Grant Shapps - has announced that the Department for Transport (DfT) will urgently take forward a review with the aim of tightening up existing legislation in order to make any use of a handheld mobile phone behind the wheel illegal. The proposed law changes are expected to be in effect by Spring 2020.
Shapps said: "We recognise that staying in touch with the world while travelling is an essential part of modern day life, but we are also committed to making our roads safe. Drivers who use a handheld mobile phone are hindering their ability to spot hazards and react in time, putting people's lives at risk."
• Police to trial mobile phone detectors for drivers
He added: "This review will look to tighten up the existing law to bring it into the 21st century, preventing reckless driving and reducing accidents on our roads."
Jack Cousens, head of roads policy at the AA, commented: "The moment someone picks up their phone while behind the wheel they are a danger to themselves and others. These tougher rules are common sense and reinforce what we have been campaigning on.
"Drivers should be focused on the road ahead and not the tweet or email that has just pinged to their phone. Closing the loopholes are one thing - getting more cops in cars to actually catch people in the act will help deter drivers further."
Do you think the law for using a mobile phone behind the wheel should change? Let us know your thoughts below...