This week's issue of Auto Express
It's a bumper 132-page special, featuring our pick of the top 100 new cars and first ride in the new Jaguar F-Type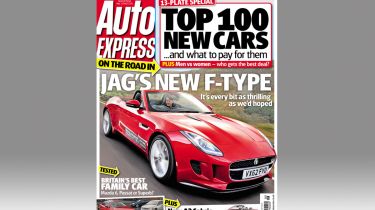 The latest issue of Auto Express is out now - and it's our massive 132-page March special, featuring the top 100 new cars and what you should pay for them.
Think you'd be better off buying used? You might not, as our investigation into new car finance deals reveals. We've also staged our own battle of the sexes, pitting man against woman in a car dealer haggling contest. Does being a man mean you're more likely to get some money off a new car? Or do women have the real power of persuasion for making a saving and getting some optional extras thrown in by the salesman? Read the full feature to find out.
Also this week, you can read the full lowdown on our exclusive ride in the brand-new Jaguar F-Type with chief engineer, Mike Cross, as well as our first drives of the facelifted Mercedes E-Class, VW Polo R WRC, MINI JCW, a pair of Volvo V40s and the all-electric VW up!.
Our road test team has driven the all-new Mazda 6 back-to-back with the Skoda Superb and VW Passat to see if the sleek 6 can take victory over two established rivals.
We have the full story on the new Audi A3 family, the Toyota GT 86 convertible and a £2.1 million Middle-Eastern supercar. We also have new details of the upcoming Alfa Romeo 4C, facelifted Peugeot 308 and lightweight Subaru BRZ, along with all the latest consumer news, letters and sport news.
Issue 1,254 is available to buy now, priced at £2.95. Alternatively, you can claim six issues for £1 and have the magazine delivered straight to your door every week or download our new iPad edition.