Best cars 2013: Golden Steering Wheel award winners
The seven best cars 2013 have been named by readers across Europe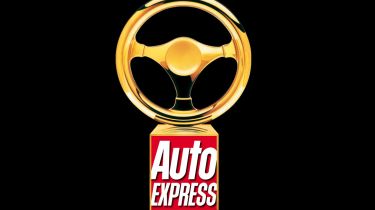 Once again, car fans across Europe have cast their votes to choose the best new models launched in the past year.
The Golden Steering Wheel is one of the most prestigious car competitions in the world – and this year produced a vintage crop of contenders. Readers of Auto Express and its sister titles all gave their verdict, and once a shortlist had been whittled down, our team of expert testers joined journalists from France, Italy and Germany to choose the winners.
With more new models than ever before this year, the contest was closely fought, but now we can reveal the cars that came out on top after our rigorous testing.
For each winner, we've also chosen our pick of the range – the version that best embodies the abilities which helped the car scoop the award. And our team provides some insight about why this particular model is so good.
There was more consensus between Auto Express readers and their counterparts in Europe over the winners this year than in 2012, but two cars you voted for in our UK poll didn't go on to take overall victory.
Unlike in previous years, no one country dominated the competition, with British and French brands sealing surprise wins over polished German opposition.
Small class winner: Volkswagen Golf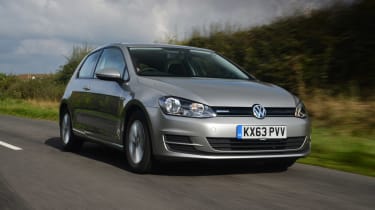 Our pick: Golf BlueMotionPrice: £20,990
Although it lost out in our New Car Awards 2013 to the SEAT Leon, the VW Golf is a huge hit with European voters. Now in its seventh generation, it's a superb family all-rounder that combines space and class-leading fuel efficiency with a high-class interior and more hi-tech gadgets than ever. The new BlueMotion is the pick of the bunch – it emits 85g/km of CO2 and has brilliant handling.
Middle class winner: Audi A3 Saloon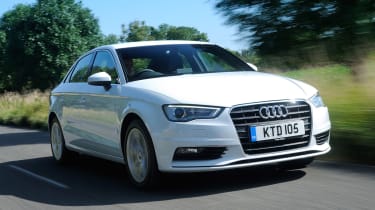 Our pick: A3 Saloon 1.4 TFSI CoD SportPrice: £24,305
The five-door Audi A3 was 2012's hatchback king, so this result is no surprise. The Saloon even outstrips Mercedes' CLA. A top-class cabin plus sportier exterior than the five-door give serious showroom appeal, and it's just as refined and agile as cars from the class above. Neat cylinder shut-off petrol cars are fun and cheap to run, as the four-door edged UK favourite the Mazda 6 off the shortlist.
Luxury class winner: Mercedes S-Class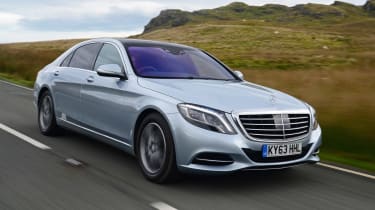 Our pick: S350 BlueTEC L SE LinePrice: £65,650
There was never likely to be any debate about this result. The Mercedes S-Class has swept to the top of the sector – and this is probably the first of many awards. UK and European readers agreed the Mercedes was the finest luxury limo by a mile – which is why we called it "the world's best car". Engaging dynamics and effortless comfort, plus the usual hi-tech kit, sealed its win.
SUV class winner: BMW X5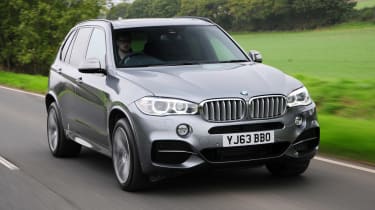 Our pick: X5 xDrive30d SEPrice: £47,895
This booming class was topped by a car that helped kick-start the high-riding 4x4 craze in 1999. European judges voted for the new BMW X5 despite its fresh focus on comfort and space over fun. Four suspension options and class-leading emissions make it the sensible choice. Yet UK voters – and Auto Express – prefer the pricier but more luxurious Range Rover, which is still off-road king.
Coupe/cabriolet class winner: Jaguar F-Type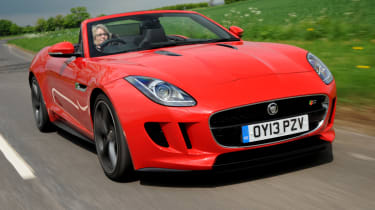 Our pick: F-Type V6SPrice: £67,500
It's always nice to see a British car take top spot, with the Jaguar F-Type stealing victory over the BMW 4 Series and Porsche Cayman. Its striking looks get a lot of attention, but the judges felt the Jaguar's beauty was more than skin deep. The fantastic engines and responsive chassis create a great all-round sports car. With more F-Type models on the way, including a Coupe, its success looks secure.
MPV class winner: Citroen C4 Picasso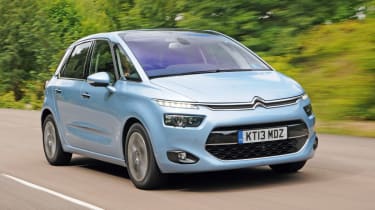 Our pick: C4 Picasso e-HDi VTR+Price: £20,255
One way to get your latest MPV noticed is to give it space-age styling, but family cars such as this have to be practical, too. Thankfully, the Citroen C4 Picasso's seats are easy to slide and fold to create a boot that can go from 537 to 1,709 litres. The cabin's well built, plus there's a super-efficient 70mpg 1.6-litre diesel engine and a surprisingly capable chassis that combines comfort and agility.
Green class winner: BMW i3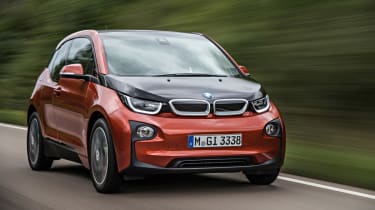 Our pick: i3 EVPrice: £25,680 (inc Government grant)
With a carbon fibre body, aluminium chassis and BMW badge, we guessed the i3 would change the world of electric cars. We were right! Our time at the wheel has revealed a car that's smooth and relaxing, yet punchy, too. It has a real hot hatch feel, while the rear-wheel-drive platform and 50:50 weight distribution make it as sharp as any other BMW in bends.