UK's top modified car companies
We meet some of the growing band of car modifiers giving their customers the best of British
If you'd uttered the word 'modified' 15 to 20 years ago, it would have conjured up an image of youngsters in Ford Fiestas and Vauxhall Novas gathering in car parks to compare how loud, or how low, they had made their cars.
It's very different now, as companies deliver high-quality, high-cost looks that rival premium manufacturers' output in workmanship and finish. Modifiers don't just give the exterior a shiny makeover, either. Many offer a complete overhaul under the bonnet, too, and even go as far as improving the handling and ride.
It'll cost a bit more than the £150 you'd have spent at Halfords in the late nineties, but you're paying for high-quality engineering that will last.
Twisted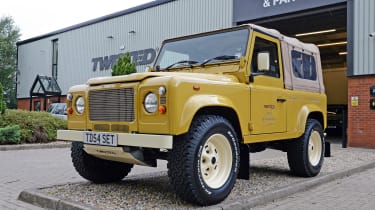 Where's it based? Thirsk, North Yorkshire
What does it offer? Specialises in existing and new Land Rover Defenders, providing extensive performance, mechanical and aesthetic improvements
The Land Rover Defender is a motoring icon, but as with all icons, it isn't without its flaws. Water leaks, noisy cabins and poor handling and suspension are just a few of the problems that come with the agricultural off-roaders – even on brand new models.
That's where Twisted comes in. While many of the companies we look at here give cars a power boost, some aesthetic updates or a bit of both, Twisted goes even further to make the Defender a more refined and polished product. John O'Mahony, general manager at Twisted, explained: "We always do the handling and sound insulation, no matter what the customers are after."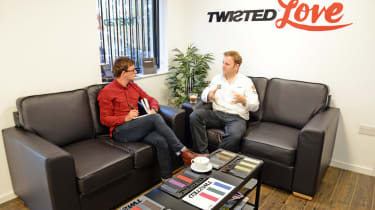 The company started by just improving the performance of cars, but as people asked for more, things started to take off. Not that it was all plain sailing. "We made mistakes really early on," director Charlie Fawcett said. "We made things too bling with big wheels, etc., but now we're not trying to be something we're not."
The team strips down the Defender to its bare shell, and then doubles up insulation as well as shines lights through the chassis to close up gaps that could lead to water leaks. Twisted even replaces rivets and nuts that tend to rust. "As long as you do a little bit in each area, it makes a big difference to the car," O'Mahony told us.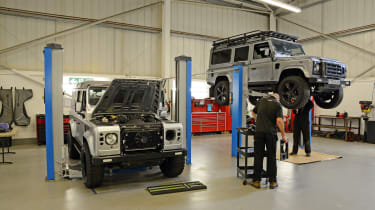 A new Defender going through the Twisted improvement is likely to cost between £60,000 and £70,000 and take five to six weeks for a decent overhaul, although this can rise the more a customer wants. As well as new cars, existing owners visit the workshop to spruce up their current 4x4, too.
It's not just UK Defender lovers who bring their cars to the company. "Our customers are worldwide," O'Mahony said. "Around one in five of the cars we do are outside the UK. We've shipped cars to Nigeria, New Zealand, Switzerland and Holland."
We asked Fawcett to explain the secret to Twisted's success. He told us: "We're passionate about what we do, and that comes across in the build." That passion looks set to continue long after the very last Defender has rolled off the Land Rover production line.
Cosworth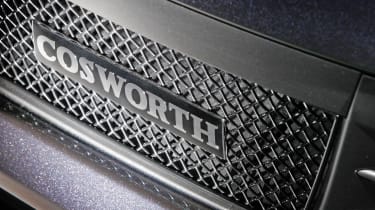 Where's it based? Cambridge; Northampton
Partnership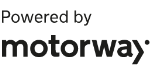 Need to sell your car?
Find your best offer from over 5,000+ dealers. It's that easy.
What does it offer? Power upgrades for owners of private cars and racers alike
The name may be linked with old fast Fords, but the Cosworth brand has moved on. The company entered into a new partnership with Subaru in 2010 when Cosworth upped power by 33 per cent on the Impreza. Cosworth has stayed true to its motorsport heritage, with engineering projects for racing industry customers continuing to take up the bulk of its work, but it also provides a range of aftermarket road and track performance products for owners of private cars.
Superchips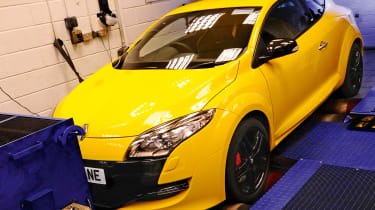 Where's it based? Nationwide
What does it offer? Straightforward engine remapping for added power
While some of these specialists focus on supercars, Superchips offers the average motorist an affordable way to give their existing car a power boost. Enter your make and model on the company's website to see the upgrade – for instance, a 2013 VW Golf GTI can be modified to increase power output from 216bhp to 246bhp and torque from 350Nm to 401Nm.
Kahn Design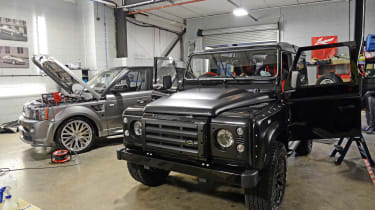 Where's it based? Bradford and Leeds, West Yorkshire; King's Road, London
What does it offer? Focus is on giving luxury off-roaders added panache, but Kahn also sells watches and personalised number plates
Another of the 'Mod Squad' companies that has worked its way up from small beginnings to modification giant is Kahn Design. After starting out selling alloy wheels, the company has since managed to build a hugely successful business by providing aesthetic updates to Range Rovers, Audis and, with its Chelsea Tractor side project, Jeep Wranglers.
The company's high-end showroom may be on the King's Road in Chelsea, London, but we visited the main headquarters in Bradford, where the real work is done, to find out exactly what goes into a Kahn Design car.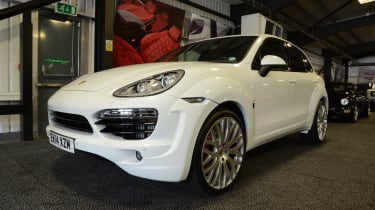 "People come to us because we're not just a modification shop or tuning company – we're an automotive fashion house," Kahn spokesman Mo Barad explained as he showed us around the bustling trim department. During our visit we saw a special Land Rover Defender with an interior decked out like a boat – including a speedboat steering wheel and wooden trim – being put together for a show.
Cars can take anywhere from one to four months for the Kahn makeover, while the cost will average £20,000 for the upgrades to a new Range Rover. As we looked at various builds underway, with bright leathers and big wheels being fitted to cars, Barad talked us through the kind of buyer who comes to Kahn Design. "Our typical customer is someone who appreciates creativity, design and individuality," he said.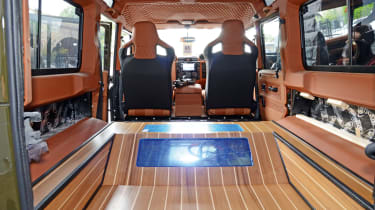 As with most of these modifiers, Barad agreed that once a Kahn buyer has one car, they're hooked: "We have many customers who return to us time after time, for new vehicles or further modifications to an existing vehicle. We value our relationship with our clients very highly – we're in a trusted position – and the loyalty of our customers reflects that."
Mountune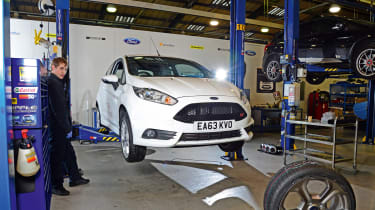 Where's it based? Brentwood, Essex
What does it offer? Performance upgrade specialist for the Ford Focus and Fiesta
Mountune will take your common Ford Fiesta or Focus – new or old – and give it that added bit of pace. The company is now the official supplier of a Fiesta ST Performance Kit on new cars, which pushes power output from 180bhp to 212bhp for just £599, and can be fitted at one of 150 Ford dealers.
Prindiville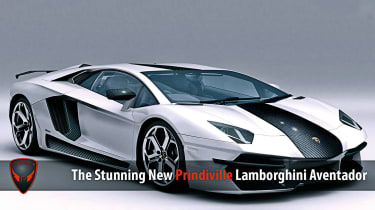 Where's it based? London
What does it offer? Loud one-off modifications of high-end supercars
Offering bodykits, performance parts and engine tuning, Prindiville sticks to high-end models, concentrating on cars such as the Aston Martin DB9, Ferrari 458 Italia and Lamborghini Murcielago. It's not just the kits and performance boost that the company gets involved in, though: Prindiville's recently branched out by creating an electric – and somewhat downsized – Hummer, officially endorsed by General Motors.
Severn Valley Motorsport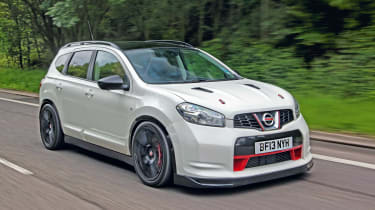 Where's it based? Telford, Shropshire
What does it offer? Modifications and added power with particular focus on the Nissan GT-R
Telford-based Severn Valley Motorsport has been tuning cars for more than 30 years, and specialises in boosting power and modifications for the Nissan GT-R, although it does upgrade other models, including Range Rovers and Porsches, too. The company's latest creation is a Nissan Qashqai with a 4.1-litre V6 twin-turbo engine, producing 1,150bhp and reducing the 0-62mph time to just 2.7 seconds. At £275,000, it's a little pricier than the average family crossover.
Litchfield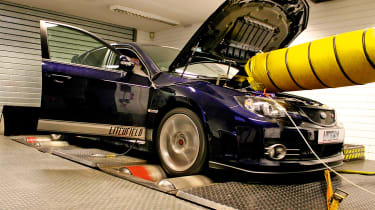 Where's it based? Malvern, Worcestershire
What does it offer? Performance car sales and tuning for Nissans, Subarus and Toyotas
This family-run business is a big name in the world of performance tuning. As with SVM, it focuses much of its attention on the supercar-slaying Nissan GT-R, while it also dabbles in various Subaru models and offers services for the rear-wheel-drive Toyota GT 86. Work mostly involves power upgrades, but Litchfield will also undertake some basic exterior modifications to a car.
Overfinch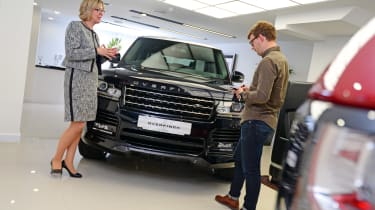 Where's it based? Leeds, West Yorkshire; St John's Wood, London
What does it offer? High-end design modifications focusing primarily on Range Rover and Range Rover Sport, plus Evoque and Land Rover Defender
What do you do if your Range Rover isn't quite luxurious enough? Take it to Overfinch – another specialist in giving the high-end SUV even more of a premium feel. Christine Clarkin, senior sales executive, explained the Overfinch approach: "We want to give you a high-end, luxury product, like a Rolls-Royce or Bentley."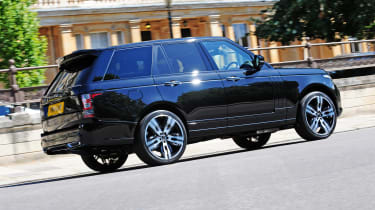 So, what goes into making a car an Overfinch product? "An Overfinch is really about the front and rear," Clarkin told us. "We take off the standard bumper and replace it with a carbon fibre one with a more assertive look." The same is done to the rear, while a carbon fibre spoiler is also added. Then there are the wheels – sizes range from 21 to 23 inches with a number of extravagant designs – while Overfinch offers two interior designs, in pretty much any colour a buyer chooses. There are also some performance upgrades available. One for the exhaust includes a switch, operated via Bluetooth, to make it even louder.
All this comes at a cost, though – the Range Rover 5.0-litre SC with full Overfinch works comes to £157,000. But the company likes to emphasise the quality of its work.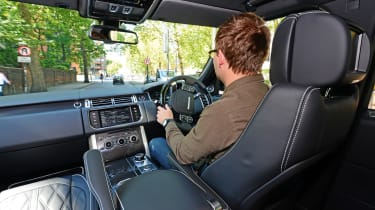 "All the companies we use, for things like the leather, are the best of British, while we're using the same carbon fibre as McLaren," said Clarkin. "This is more of a relationship – we know where all the cars are," she continued. "We try to ensure that all Overfinch cars come back and are sold through our network, so we can ensure the quality and guarantee they are our cars."