Audi recalls 127,000 cars over emissions cheat device discovery
The Audi emissions recall covers the Audi A4, A5, A6, A7, Q5 and Q7 with the majority of vehicles said to be in Germany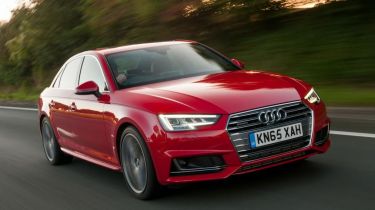 Audi is recalling 127,000 cars following the alleged discovery of emissions cheat devices by German authorities.
The recall affects the Audi A4, A5, A6, A7, as well as the Audi Q5, SQ5 and Q7 SUVs. It was imposed by the Federal Motor Transport Agency, or KBA – the equivalent to our Driver and Vehicle Licencing Agency (DVLA).
According to German newspaper Bild am Sontag (BaS), the recall was ordered after the KBA detected "unacceptable shut-off devices" on several new V6 diesel engines meeting Euro 6 emissions standards. While the large Audi A8 is also being recalled, it's not clear if the new model, or the outgoing one is affected – though BaS reported the engines affected were all made after 2015.
• VW emissions scandal: Dieselgate fix is causing breakdowns
This latest recall follows a voluntary recall in 2017 of 850,000 Audis – though it is understood the 127,000 cars currently affected were included in that earlier recall.
Commenting on this latest recall, an Audi spokesman said: "The Federal Motor Transport Agency has now also issued a distinction for Audi models with V6 TDI engines", adding: "The engine control software for the vehicles in question will be completely revised, tested and submitted to the KBA for approval."
Audi is said to have until 2 February to find a solution for the affected cars.
Audi A7 and A8 2017 recall 
Back in June2017, the German transport ministry accused Audi of cheating in emissions tests with its top-line models, the A7 and the A8. 
At the time, Audi was asked to recall around 24,000 A7 and A8 models fitted with V6 and V8 cylinder Euro 5 diesels that were built between 2010 and 2013 over irregularities in emissions testing, the German media is reporting. 
The affected models were said to pollute between 20 per cent and 100 per cent over the legal limit for nitrogen oxides (NOx) under certain driving conditions. A statement from Audi said the issue lies with the cars' transmission software: "The reason is that in some situations, engine speed is unfavourably influenced by the transmission software, which can have a negative impact on the engine's emissions. 
• Death of diesel: car industry hits out
"Audi has agreed with Germany's Federal Motor Transport Authority that it will actively approach the relevant customers and recall the affected cars." 
Audi's German headquarters were subject to a Government raid in March 2017, in connection with emissions fraud. The raid was part of an investigation by the German prosecutors into the emissions of 80,000 diesel cars sold with 3.0-litre diesel engines sold in the US between 2009 and 2015. 
The company has previously said it will work with the authorities over its investigations into emissions cheating. 
How long will the diesel emissions scandal continue? Tell us your thoughts in the comments below...