'Clean air' stickers introduced in Paris, UK motorists without one face £117 fine
New rules enforced to cut pollution in French capital require all motorists to display a 'Crit'Air' windscreen sticker or face a fine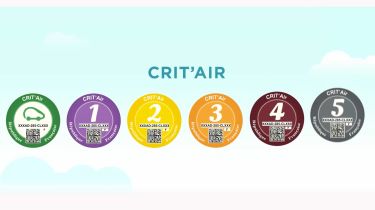 British motorists visiting Paris face a fine if they fail to display a "clean air" sticker as the French capital looks to tackle its smog problems.
Cars, as well as scooters, motorbikes, vans and lorries, must have a sticker revealing how much they pollute on their windscreens. Vehicles deemed to be high polluters, face being barred from entering Paris on days when air pollution levels are high.
The measures were announced at the end of 2016 as French officials aimed to tackle the growing problem in Paris where extreme smog spikes occured during several days of last year.
The new anti-pollution stickers - dubbed Crit'Air - have now been rolled out for both French residents and foreign drivers leaving unsuspecting British motorists open to fines from €68 to €135 (Between £59 and £117). French police have, however, been told to be lenient in enforcing the new system during its introductory phase.
The Crit'Air windscreen stickers, which can be ordered online and cost 4 Euros (£3.50), have six categories from the cleanest electric or hydrogen vehicles to the dirtiest diesel SUVs and high performance supercars. So far, more than two million have been ordered. The website that lets motorists order the stickers is currently only in French, but there are plans to launch a separate online section for foreign motorists by next month.
There are some vehicles that don't have any category and are therefore completely banned from driving in the city from Monday to Friday between 8am and 8pm. These include anything registered before 1997, scooters and motorbikes from June 2000 and trucks and buses before 2001.
What do you think of the new anti-polloution rules in Paris? Should something similar be brought to UK cities? Let us know in the comments...
Driving abroad: everything you need to know