Volvo C30 2.0D v Mercedes C220 CDI v Audi A3 TDI
After a string of hatchback flops, is Volvo on to a winner at last with the new C30? We try it out...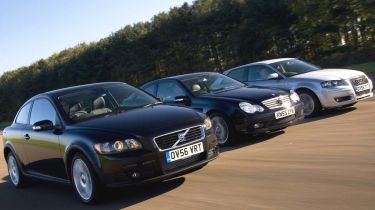 What's Volvo best known for? Automotive questions don't get much easier than that. Although the Swedish manufacturer has managed to shake off its dowdy image, and now produces a range of cool, clever cars, practicality still forms the backbone of its business, and estates remain its centrepiece.
There have been repeated attempts to break the mould, but whenever Volvo has tried to expand into other areas, it's had its fingers burned. Remember the unloved 340, launched 30 years ago, or the 440 that replaced it in 1987? Both were plain hatchbacks which failed to capture the pub­lic imagination. And even when bosses tried to do something a bit braver – as they did back in 1986 by introducing the three-door 480 coupé – it wasn't exactly a rip-roaring success. As a result, the company has been absent from the segment for nearly 10 years.
But now, Volvo is back with a spiritual successor to the 480, in the shape of the C30. And the newcomer looks set to cause a real stir in the premium hatch market thanks to its distinctive tailgate and strong engine line-up.
However, tempting image-conscious young executives into this latest Volvo is going to be a difficult task. It has to hold off the recently revised Mercedes C-Class Sports Coupé, and then the popular Audi A3 – the model that can rightly claim to have been the first car to bring premium quality to the compact hatchback sector. So will the C30 prove more successful than its predecessors?
Verdict
The Volvo C30 has what it takes to win this premium hatch test – but only just. Three crucial attributes work in its favour: good looks, an attractive, well designed cabin and tempting prices. Decent performances in other areas are enough to give it the nod over the second-placed Audi.
The A3 is more fun to drive and beautifully finished throughout, but with its ordinary proportions and VW Golf underpinnings, it's a less exciting car to own. That leaves the Mercedes in last place. Despite its age, the Sports Coupé remains competitive, but as with so many Mercs, it's too expensive.
Volvo has made a good car then. But as the C30 uses existing technology, it isn't quite the radical step forward the styling might lead you to believe.