Soft-tops
Blackpool is the backdrop as we try new soft-tops from Bentley and Morgan. Which is the height of Britishness?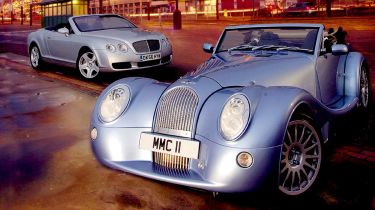 Does the British coastline have a more recognisable landmark than the Blackpool Tower? Built in 1894, the 158-metre-high steel framework is clad with 10,000 light bulbs, attracts 650,000 visitors every year and houses an equally famous ballroom.
As proud Brits we may not like admitting it, but it's easy to see where the tower architects got their inspiration from. Constructed five years before Blackpool's version, the Eiffel Tower in Paris is not only renowned worldwide, but reaching 321 metres into the sky, is more than twice the height. In comparison, our copy-cat version may seem like a pale imitation – but it still has a character all of its own.
The same could be said of British car manufacturers. Although not as successful as the French, who still have a massive motor industry, most of the machines we do produce ooze charm and charisma. Just look at these two new drop-tops, for example. The Bentley Continental GTC and revised Morgan Aero 8 may look out of place on a chilly Blackpool seafront, but both can trace their roots back a long way – Bentley was founded in 1919, Morgan nine years earlier.
Yet for these small companies to remain stable in the current economic climate, both have sought external help. Bentley is now owned by the VW Group, while Morgan uses BMW's engine and transmission technology. Has this German input diluted the traditional British appeal of these two drop-tops?
The marques claim not. Each is still built in the UK – the Bentley at Crewe, Cheshire, the Morgan at Malvern in Worcestershire – and both remain true to their original philosophy. The GTC, which is based on the Continental GT coupé, is a luxurious yet sporting grand tourer, the two-seat Aero 8 a traditional lightweight roadster with modern underpinnings.
However, the differences don't end there. The Bentley seats twice as many people and is twice as heavy, powerful and expensive as its rival. But does that make it twice as British? Or, for that matter, twice as good?
Verdict
Before selecting a winner, it's great to report that these two famous British marques are in rude health. That's a fine achievement, especially for 97-year-old Morgan, since it remains a fully independent car builder.
In this test we wanted to find out whether the German influence has robbed the end products of some of their Britishness. And although we're astounded by the GTC's abilities, it comes across as having had a traditional Crewe veneer painted over some less characterful VW underpinnings.
The same can't be said of the Morgan. Its BMW engine complements the Aero 8, and although the car has flaws in some areas, these deficiencies merely add to the overall charm. It's our winner.