Family hatchbacks
We pitch Toyota's all-new Auris against opponents from Honda, Ford and VW in its first UK test...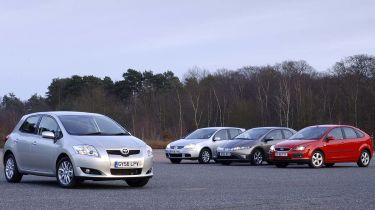 What's in a name? Well, not much if Toyota's decision to ditch the Corolla badge is anything to go by. Even though it's the best-selling car in the world, with more than 31.6 million examples finding homes across the globe since 1966, the Japanese firm has made the bold move of Dispensing with the name.
The reason? It claims its new Auris is so radically different, only a fresh identity would do. The car is on sale here in February, and the new name is already causing confusion (apparently it's pronounced ow-ris, not or-ris).
But away from the phonetics, can the replacement for the Corolla compete with the big-hitters in this sector? To find out, we grabbed the opportunity to test one of the first models to arrive in Britain.
Early reports have been favourable, and although the newcomer's styling isn't a million miles from the car it replaces, it promises to be a big step forward in terms of interior style, refinement and handling.
And it will have to be, as we've pitted the Toyota against the current class best: the Honda Civic, Ford Focus and VW Golf. The former was voted Best Compact Family Car at our New Car Honours last year (Issue 915), and its funky image has helped it appeal to a much younger audience.
The Focus will test just how good the Auris's chassis dynamics really are, while the Golf's quality and image remain the benchmark in this class. So can the new Toyota rise to the top?
Verdict
Toyota had one aim when developing the Auris: to make it the world's best family hatch. But it's missed that target. Each rival here tested the newcomer in a particular area – the Honda Civic has unrivalled design and packaging, the Ford Focus the best ride and handling, while no other hatch is as well built or classy as the VW Golf. The Auris was found wanting in each department.
It doesn't trail the leaders by much in most aspects – for instance, the road manners are much improved. But in other areas it's firing blanks; the bridge centre console is flawed, packaging is average at best and the styling is bland. The Toyota's one trump card is that it's very well priced, but that's not enough to prevent it from bringing up the rear of a very talented group.
The Golf and Focus are evenly matched, with the Ford edging in front due to its lower costs. But our class champion remains the excellent Civic.