Hot hatchbacks
We put the new Peugeot 207 GTi to the test against the best in class from MINI, Vauxhall and Renault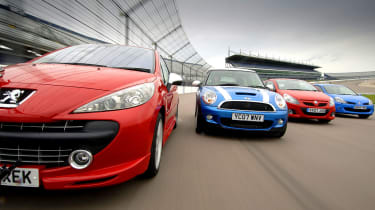 Retro is all the rage at the moment, and the Eighties is the decade of choice. There has been a resurgence of questionable haircuts and fashion trends that were probably best left alone 20 years ago, but one welcome reappearance is the revival of the hot hatch. Volkswagen has already produced its best Golf GTI since the MkI, and now it's Peugeot's turn, with the 207.
The replacement for the 206 was launched 12 months ago, and while the French firm has teased us with a warm GT version, we've had to wait until now for the GTi model. Peugeot reckons it's a modern evolution of the 205 GTi – in fact, the maker claims the 207 GTi is the most complete hot hatch it has ever produced.
Sounds good on paper, but the 207 has a tough challenge on its hands. While the standard car is capable, we have our reservations, not least about the weak gearbox. Even if Peugeot has addressed these shortcomings, it still has some tough competition, as its rivals here – the Vauxhall Corsa VXR, MINI Cooper S and Renaultsport Clio 197 – are the best pocket rockets available.
Verdict
We had high hopes for the Peugeot 207 GTi, but it's an anti-climax that delivers few thrills. And while each of its competitors has a distinct character, the 207 simply doesn't look or feel special. This may seem harsh, but it shows how strong this market is. And that's why the 207 comes last.
The fight between the other three is much closer, but the Renaultsport Clio 197 is first to fall. For driving purists it's superb, yet the lack of refinement, mid-range torque and poor fuel consumption limit its day-to-day appeal.
In second place is the Vauxhall. The bold styling and high-quality cabin are only half the story – it has bags of grip, there's little that can upset the handling and it's truly entertaining. But our winner is the MINI Cooper S.
It's hard to resist its charms, and whether in town or on open roads, the MINI is fast, fun to drive and great to own – the marks of a true hot hatch.