Volkswagen Polo Bluemotion vs rivals
Thanks to a raft of upgrades, VW's new Polo Bluemotion promises amazing fuel efficiency. We put it to the test as it meets the most economical cars in the UK...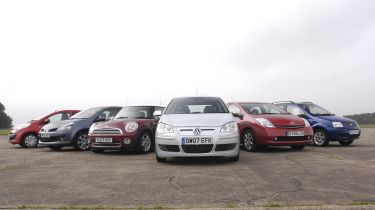 It's not easy being green – so should you try blue instead? The new Polo Bluemotion has just gone on sale in Volkswagen's UK dealers, and is the first of a raft of new cars due to arrive over the coming months which claim to lower costs by improving fuel economy, as well as help the environment.
The background to this is new EU legislation, which demands that manufacturers reduce the average CO2 output of their model ranges to 130g/km by 2012. Last year, it was 160g/km.
Of more immediate interest is the fact that, in the UK, fuel duty has just been increased by two pence per litre. So the launch of the Bluemotion has been perfectly timed – but the big question is, does the technology behind it work in reality?
We conducted an in-depth test with the aim of finding out exactly how efficient the eco-friendly new Polo actually is. And what better reception committee for the first of this new breed than a line-up featuring the most economical models on sale in this country? They consist of a hybrid, two city runabouts and a pair of superminis, and all our cars promise to achieve well in excess of 60mpg in normal day-to-day driving conditions.
But will any of them hit their targets? We devised a three-part test – all is explained in the panel – before crunching all the numbers to bring you the final results. So read on to find out whether the latest fuel-saving technology really can help you save money.
How we did it... We worked out a three-part test route, which comprised an 18-mile urban section through the streets of Northampton in rush hour, followed by a 70-mile cross-country drive in Warwickshire and the Cotswolds and finally a 50-mile motorway stint on the M40. All six cars were driven to keep pace with traffic – rather than recording the best possible figures, we wanted a realistic indication of what you can achieve in normal conditions.
These individual fuel returns were then converted into a combined economy figure, using a ratio of 22 per cent urban, 58 per cent extra urban and 20 per cent motorway – that's the average annual driving mix undertaken by British motorists. We also calculated each car's real world CO2 output – and it was interesting to see how much our readings differed from the official quotes.
What's the future? So, where does engine technology go from here? How do car manufacturers manage to meet those tough new European Union requirements which demand that model ranges emit 130g/km of CO2 on average?
With fuel cell vehicles still thought to be decades away from production, the most exciting development at the moment is taking place at PSA Peugeot Citroen's headquarters in France, where engineers are working on the innovative new Hybride HDi system. This will be the first diesel hybrid to make it to showrooms, and combines a 1.6-litre oil-burning engine and an electric motor. It's set to appear in both the Peugeot 308 and Citroen C4 in two years' time, and with it, the cars are expected to return impressive fuel economy of 83mpg and incredibly low CO2 outputs of only 90g/km.
The arrival of the Hybride HDi is certain to encourage other manufacturers to follow suit. But before then, a raft of new green-themed models will arrive – and the leading makers provided a glimpse of some of this technology at last month's Frankfurt Motor Show. Ford unveiled the Mondeo ECOnetic and Skoda displayed its Fabia Greenline, while other environmentally conscious debutants in Germany included the Renault eco2, Audi e, Kia Eco_cee'd and SEAT Ibiza ECOMotive.
The trouble is, none of these cars features a radical solution. Instead, each achieves improvements in fuel economy and emissions in similar ways to Volkswagen's Bluemotion and BMW's Efficient Dynamics systems.
Verdict
All six cars are very efficient – even the worst performer returned nearly 54mpg. But while the Polo Bluemotion is more frugal than the Prius and Clio, it doesn't win, as it's not good value and its fuel-saving technology isn't that effective.
In third was the Fiat, just behind our winner, the 60.5mpg Citroen. The MINI, in second, impressed most. Its efficiency upgrades are more advanced than the VW's – and they are standard on all cars.