Lexus LS600h vs Audi A8
The new Lexus lS600h hybrid aims to blend performance and luxury with class-leading efficiency. Can it beat Audi's diesel-engined A8L?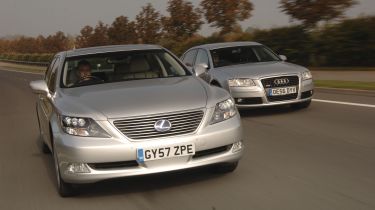 The final piece of Lexus's hybrid puzzle has now slotted into place. The LS600h, which has recently gone on sale in UK showrooms, is the third car in the Japanese maker's range to combine petrol and electric power.
The claim of the new flagship model is that you don't have to compromise in order to lower emissions and raise economy. It's on this basis that bosses are lauding the car as the best luxury saloon in the world.
Power comes from a new 5.0-litre V8 engine, mated to an electric motor that boosts the output by a further 50bhp. Add in four-wheel drive, and Lexus says the LS600h provides the performance of a V12 petrol super-saloon with the economy and emissions of a diesel. It's also the most expensive car the brand has ever sold, with prices starting from £81,400. If your environmental concerns are as big as your bank balance, the LS600h could well be as good as Lexus is telling us it is.
To put its claims to the test, we've lined the hybrid up against the UK's most powerful diesel luxury model: the 322bhp twin-turbo Audi A8L 4.2 TDI. The German marque is as well known for developing diesel power in luxury and sporting cars as Lexus is for its work in the field of hybrids. But which approach will come out on top as we go in search of the ultimate blend of opulence, refinement, performance and economy?
Verdict
There's no doubt the LS600h is the ultimate example of Lexus's technical prowess. It blends all the firm's hybrid know-how with the quality, refinement and hi-tech gadgetry for which it's famed.
As a result, the luxury saloon offers class-leading mechanical refinement and cabin quietness. The trouble is, it comes across as being rather bland.
More crucially, while the low 219g/km emissions are very impressive, it's hard to get the car to run on battery power alone. And our average of less than 20mpg suggests there are few reasons to opt for the hybrid over the standard LS460, which performs as well and is only slightly less economical.
This poor result, combined with the fact the Lexus costs so much, means the Audi A8 earns an easy victory here. Not only is it £20,000 cheaper, it's also better designed from superior materials, just as fast and around 10mpg more efficient.
Nevertheless, if your passion for hybrids is matched only by the size of your wallet, the LS600h is a fine luxury car that sends out the right message – even if it doesn't work as well as a Toyota Prius, which costs a quarter of the price.