Off-road shoot-out
In an Auto Express first, we line up 12 off-roaders, from premium SUV to Pick-up truck, and pit them against the toughest 4x4 course in the country to find out if they really can cut it in the rough stuff...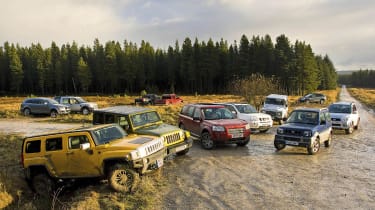 Modern off-roaders – they're not designed to tackle anything more challenging than the occasional kerbstone, are they? Well, that's a common perception, but what about the reality? Are the latest SUVs best labelled soft-roaders, or do they respect their 4x4 origins?
That's what we aim to find out in one of the most extreme tests Auto Express has ever conducted. We've brought 12 cars to one of the UK's best off-road centres to find out what they're made of. To ensure a level playing field, each contender was put through exactly the same set of tests. This meant some romped through particular obstacles with ease, while others had to abort – and were marked down accordingly.
The tasks covered every off-road challenge, plus subjective aspects of their performance, such as fun and durability. All cars were fitted with their standard tyres to prevent any unfair advantage.
And what better time of year to conduct this feature? Our two-day test included wind, hail and sub-zero temperatures. So with road testers clad in wellies rather than racing boots, we find out if the current crop of off-roaders still knows how to cut it in the rough.
We've divided the cars into pairs that cover five sectors of the market – premium SUV, mini 4x4, hardcore off-roader, compact SUV and pick-up. What's more, we brought along two models at the extreme ends of the 4x4 spectrum, the Lexus RX400h and Land Rover Defender, to see how they would cope with our tests.