Mercedes C-Class vs BMW 3-Series
It looks great, and it's roomy, too... But can Mercedes' new C-Class Estate topple the new BMW 3-Series Touring as we put the pair head-to-head?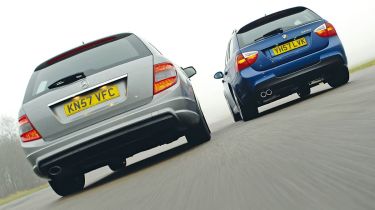 Mercedes is famous for the sheer depth of its model line-up. At the last count, it sells 18 different models in the UK – 20 if you include the SLR and SLR Roadster supercars.
However, given the firm's habit of plugging every niche several times over, it may surprise you to learn that its first compact estate was only launched 12 years ago. By that time, BMW had a headstart with its 3-Series Touring, which was first seen in 1989.
Even so, this is still a relatively young sector – 20 years ago, the small premium load-lugger was nothing more than a sketch on a designer's drawing board. And even today, the cars occupy a slightly odd position in the market.
These are lifestyle estates, where outright space isn't crucially important. What's key is that the car conveys the impression that you lead an active outdoors existence – preferably with weekends spent kite surfing, rock climbing or mountain biking. And bearing that in mind, it's worth recording that while Mercedes claims its new C-Class Estate has the biggest load bay, heaviest payload and greatest towing weight in the sector, its maximum carrying capacity is bettered by the firm's A-Class and B-Class hatchbacks.
Nevertheless, we think the new C-Class is a cracking compact executive. And provided Mercedes hasn't mucked up the formula completely for the Estate, it should make this a very closely fought twin test with the BMW 3-Series Touring.
Verdict
The premium estate market is in fine fettle, and these are the best models available in the UK today. Although one is powered by diesel and the other by petrol, they have a lot in common, proving hard to separate on running costs, flexibility and features.
But in other areas, the C-Class and 3-Series are poles apart. Outward appearances suggest these two have a similar 'active' ethos, yet they're actually quite different in character. The 325i is a genuine sporting estate, while the C220 CDI is a more relaxed, mature load-lugger.
That's not to say the Merc can't match the Beemer for driver appeal; the C-Class is almost as responsive, and delivers a far superior ride. It also has the larger overall load area and is better at coping with most tasks. It doesn't feature a separate opening rear glass, yet that's offset by the standard electric tailgate. In 325i guise, the BMW's extra driver appeal and performance potential make it tempting, but the Merc's more rounded character, handsome looks and superior road manners just give it the edge. Both are very expensive for what you get, though.