Audi RS6 vs dream garage
Audi says its new RS6 is the only car you'll ever need. We test the theory by lining up our 'dream garage' for the same price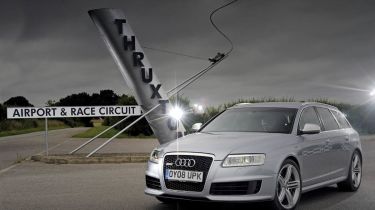 We've always been told you can't have your cake and eat it. But now, Audi claims it has created the only car you will need.
The RS6 Avant is the most powerful production Audi ever made. It combines thrilling pace with the practicality and comfort of a luxury estate, and bosses claim it redefines the supercar.
Power comes from a 5.0-litre twin-turbo V10 with 572bhp and 650Nm of torque – making the RS6 the world's fastest-accelerating five-door estate. And yet it still has a roomy and sumptuous cabin, plus a huge 565-litre boot.
None of this comes cheap, though – in Avant form, the Audi costs £77,730. So we've devised a special challenge for it, assembling three different cars which, together, add up to the same price as this flagship Audi. Is it better to own a jack of all trades or spread your motoring needs?
First up, any performance car has to engage, involve and excite the driver. So is the RS6 as fun on a track as Caterham's Roadsport 150 Sigma? Barely changed in concept since 1957's original Lotus Seven, it follows the classic formula of simple technology and low weight to deliver an undiluted driving experience.
On a stretch of country road, Nissan's 350Z coupé blends character, pace and a tuneful V6 with more refinement than the Caterham. So you have an old-school muscle car and a lightweight track star – but you still need the space, versatility and practicality of a great estate.
Step forward Ford's Mondeo 2.2 TDCi Titanium X, which offers excellent pace, a big boot, lots of kit and superb handling. The question is whether we'd choose the Audi over a dream garage housing this trio. So read on as we deliver our verdict.
Verdict
Does splashing out on a trio of models make better sense than the all-inclusive RS6 Avant?
The answer is complicated. For starters, owning three cars just isn't always practical – few of us are lucky enough to have such extensive parking facilities!
But it's worth remembering our trio costs £73,990 – which is £3,740 less than the RS6. That leaves a bit of spare cash for a lock-up garage, or maybe a trailer to tow the Caterham to track days.
The annual road tax bill for our trio would be £730, compared to £400 for the RS6, while insuring all three would cost £1,091 – a premium of £146 over the Audi.
Servicing is another factor. Having three cars means lower mileages on each one, leading to less frequent maintenance.
Plus, driving the Mondeo day to day, the Nissan at weekends and keeping the Caterham for track days would mean lower fuel bills than using the 16.0mpg RS6 for all three activities.
But how does the Audi stack up against each rival in isolation? Despite the RS6's incredible pace, the Caterham's undiluted nature means you would have more fun and improve your driving skills.
On the road, the Nissan 350Z is more characterful, although the RS6 is faster point to point. The Audi is also more relaxing in town.
Finally, for practicality, comfort and day-to-day usability, it's hard to fault the Mondeo. What it lacks in relative power it makes up for with its great blend of refinement, performance and fuel economy.
The Audi proves you can wrap a supercar package in an estate body, and is an amazing machine. But our dream garage wins here.