New Hyundai i20 vs Rivals
Hyundai's new i20 has been designed to take on the best European superminis around. So, how does it fare against Ford and Skoda rivals?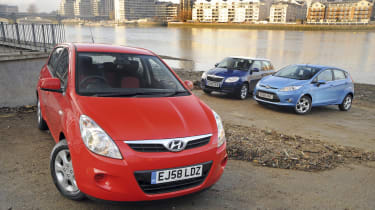 Already the world's fifth-biggest auto maker, Hyundai has its 'i' on the European market... Following on from the i10 city car and i30 compact hatchback, the new i20 has been developed to appeal directly to our tastes.
All of the firm's latest models have blended value and quality, and now it has a new contender in the most competitive class of all: superminis. The i20 replaces the Getz, and is lower, longer and wider than its predecessor.
There's a line-up of fresh diesel and petrol engines, and with generous kit and competitive pricing, it should be a stern rival to the latest crop of accomplished European models. But can it beat the best?
Our current class favourite is the new Ford Fiesta, which resets standards for driver appeal and refinement. Yet it is more costly than the i20. We put the five-door 1.25 Zetec to the test against the 1.2-litre Comfort trim Hyundai to find out.
If there's one European manufacturer that already lays claim to the quality and value for money mantle, it's Skoda. The capable Fabia completes our test trio...
Verdict
Hyundai has high hopes for the i20 – and we can see why! The newcomer is far closer to European class leaders than any of the firm's previous superminis. The styling is smart and quality is much improved over the Getz.
It's powered by a modern engine, which provides decent performance and low emissions, is competitively priced and well equipped. Hyundai's five-year warranty adds the finishing touch to a fine supermini package.
The Skoda Fabia offers a bigger interior and more robust cabin materials than the Hyundai, but the i20 has better body control and a more efficient engine. Add this to the newcomer's excellent value, and the Fabia finishes third here.
However, despite its higher price, picking the Fiesta as the winner was easy. Such is the depth of its abilities and appeal that it easily justifies its price premium over its rivals in this test.
Great to drive, refined and well built, the Fiesta is the undisputed supermini benchmark. It's just as desirable with the entry-level petrol engine as it is in flagship guise. As we have said before, this is a car that makes you feel good every time you drive it.