New Ka vs rivals
Thirteen years after the original, the new Ka is here. Has it been worth the wait?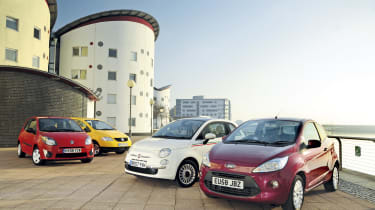 Great design has no sell-by date. Even though the original Ford Ka was launched in 1996, it was a tough city car to beat in every year of production, right up to 2008!
Replacing an accomplished model is always a challenge, especially when you hand most of the engineering process over to another company – the new Ka shares its underpinnings with the latest Fiat 500.
The Italian has been a hit in the UK, so can Ford cash in on that success, or has the blue oval compromised the identity of its smallest three-door? In this definitive first UK test, we're going to find out.
We've brought together the 500 and Ka in affordable 1.2-litre petrol form, and drafted in two rivals from mainstream marques which know a thing or two about value for money. In basic 1.2-litre form, the Renault Twingo is a pared-back city car in the traditional French mould, while Volkswagen's Fox mixes a premium badge with great practicality and the lowest price of our quartet. It's time to find out if the Ka can follow in the wheeltracks of its predecessor, or if it's taken a wrong turn.
Verdict
The four cars in this test can easily be split into two pairs. Predictably, it's the two cheaper models that have sunk to the bottom of the ranking. Few would have expected VW's Fox to beat Renault's newer Twingo, but separating the two was simple.
The French car feels cheaper than it is, and is sure to leave many buyers feeling shortchanged in basic trim. In contrast, the VW betrays its price with decent quality, a characterful engine and unbeatable practicality.
However, there's no doubt that both the new Ford Ka and Fiat 500 justify every penny of their £1,000-plus price premiums. Picking a winner from these two is tricky, as they are so similar. Had Ford managed to widen the price gap between the two, the decision would have been even tougher...
As it stands, the Ka feels like the poor relation of the Fiat. Yes, it's sharper to drive, but the 500 is dynamically capable enough for the majority of buyers. What's more, it has desirability, style and head-turning ability that the Ford can only dream of. The Ka is still a fine city car, but it's not nearly as influential as its predecessor.