Mitsubishi Colt vs Suzuki Swift
Mitsubishi has beefed up its Colt with an Evo-lookalike nose job. Can it blow away Suzuki's cool Swift?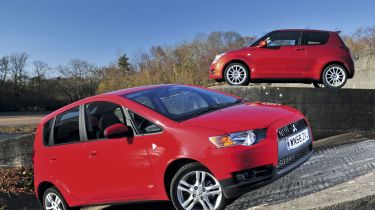 Having hit the bullseye with the styling of its Lancer Evolution X, Mitsubishi is keen for the design of the snout to be a hit on the high street, as well as the rally stage. So, the distinctive front end is becoming a trademark of the brand.
Hot on the heels of the new Lancer Sportback comes the fresh-faced Colt. But can the baby of the range carry off the same aggressive nose job? To see if it has ability to match its looks, we test a practical five-door model in mid-range CZ2 trim.
The Colt backs up its racy appearance with a powerful 1.3-litre petrol engine that delivers 94bhp. Plus, at £9,299, the spacious hatchback is keenly priced.
Competition comes from the small car specialists at Suzuki. The Swift is our favourite budget supermini, and this special-edition Attitude features sports seats, bigger alloy wheels, air-conditioning and keyless go. Only 500 examples will reach the UK, but the extra kit doesn't come cheap. The Suzuki costs £9,850, and is available only in sporty three-door guise.
Is the Swift Attitude impressive enough to justify its higher price tag, or will the practical Colt turn out to be the more fun, affordable and user-friendly runaround?
Verdict
Eachof these superminis promises sporty looks without the running costs normally associated with a performance hatchback – but which one makes the better buy?
With its racy alloy wheels and sleek styling, this special Swift has the looks to match its name, yet it comes at a price. The Colt isn't as expensive to buy, and its five-door body provides much more practicality.
While enthusiastic drivers will no doubt prefer the sportier edge and classier cabin of the Suzuki, its on-road advantage is slight. Plus, the underpowered 1.3-litre engine tends to ruin the glitzy illusion created by the racy seats and alloy wheels.
There are better models in the Swift line-up than the limited-run Attitude, but in this test the Suzuki has to come second to the bigger, cheaper and faster new Mitsubishi.