How To Look Good For Less!
You don't have to break the bank on a car to turn heads – as we line up a great-value fashion parade.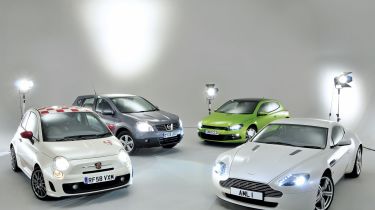 Getting designer looks for high street prices is the ultimate consumer achievement, but can you really pull it off with your next car? It's time to find out!
We've raided the price lists to test our purchasing power to the max, and come up with four very different models that allow you to turn heads without hitting your credit limit. Representing the feisty city slickers, the Abarth 500 Esseesse is put to the test as a cut-price alternative to the mighty MINI JCW. Will the shrunken hot hatch be able to fill the tracks of the ultra-cool Brit?
Next up is the Nissan Qashqai. Its shape, concept and line-up are very similar to Ford's Kuga, yet it's available for less. If you're after a coupé, style couldn't be more important. That's why Mercedes' classy CLC is a big hit, despite its dated underpinnings. However, is Volkswagen's Scirocco better value? We put it under the spotlight.
Given that this road test special is all about saving money, why have we included an Aston Martin in our line-up? It's not a mistake – whether or not the famous British model is a bargain depends on whether you compare it to a Porsche 911 or a Bentley Continental GT. We put ourselves in the position of a lottery winner, and see whether the Aston V8 Vantage is a more sensible alternative to Bentley's model.