7 seat wonders
Need to carry lots of people? We pick out four fantastic buys, with prices ranging from £13,000 to £30,000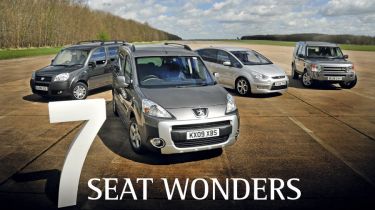 Seven is the magic number when it comes to carrying people. And cars with this many seats come in all shapes and sizes.
From van-based budget models to off-roaders with a third row in the boot, buyers are spoiled for choice.
Just how much depends on your budget, so to make life easier we've picked our favourite models at a range of prices.
Starting the ball rolling is the Fiat Doblo Family. Billed as the cheapest seven- seater in the UK, it mixes van-like practicality with a family car price tag. It starts from only £12,900, which is enough to make some superminis look expensive!
The latest Peugeot Partner Tepee features in our sub-£15,000 category. We're big fans of the boxy family model, so will the addition of an extra pair of seats improve its prospects? We try the flagship Outdoor model to see how it copes.
If you can afford up to £20,000, that puts the excellent Ford S-MAX within reach. It's our favourite MPV and still looks like one of the freshest contenders on the scene.
Land Rover's Discovery 3 completes our line-up. Entry-level models sneak beneath the £30,000 mark, but if you think the off-roader is a pure mud-plugger, its third row of seats may come as a surprise.
We put them all through their paces – loaded and unloaded – to see how they rate...
Verdict
This test proves that there's a seven-seater to suit every pocket, but that isn't the biggest surprise. After a day testing these cars, one thing stood out – how thoroughly well engineered our quartet felt. They all coped with the demands of a full load impressively.
The Fiat Doblo Family could have struggled, with its van origins and tiny 1.3-litre diesel engine. However its lively performance, practicality and entertaining handling wowed us.
A new seven-seater option for the Tepee makes a superb package even more appealing. Outdoor trim adds to the cost of Peugeot's budget MPV, but lesser models provide a winning blend of space and value.
Ford's S-MAX drew praise for its excellent dynamics and flexible interior layout. The flagship model performed strongly at the test track, although you'll need to choose a lower spec version to reach our £20,000 cut-off.
And the Land Rover Discovery 3 proved itself to be the ultimate people mover. With a pair of full-size foldaway seats in the boot, it is the most desirable and capable seven-seater around.
Under £13,000: Fiat Doblo Family It's the most affordable car here, but the Doblo provides incredible space and versatility. Performance from the 1.3-litre diesel is also impressive.
Under £15,000: Peugeot Tepee We're already converts to the superbly versatile Tepee, although Peugeot's addition of an extra pair of seats makes this package even more appealing.
Under £20,000: Ford S-Max Our MPV champ is still a class act. With a clever cabin, sharp handling and stylish looks, it's a people carrier for those who don't really want to own a seven-seater.
Under £30,000 Land Rover Discovery 3 Where else will you find a car that can accommodate seven adults in comfort and go off-road with the best 4x4s around? Its spacious rear seats are among the very best