Economy Drive
Suzuki's all-new Alto enters the closely fought city car sector with value for money on its side. Is that enough for it to trump our current class champ, the Hyundai i10?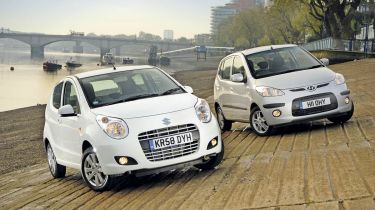 The battle for buyers in the budget-conscious city car sector has never been more fierce. An ever-increasing number of newcomers are vying for attention alongside seasoned campaigners.
The latest model to join the fight is the Suzuki Alto. The city car has been part of the Japanese firm's line-up for 30 years, but the seventh-generation version is the first to be co-developed with another company – it will also be sold here as the Nissan Pixo.
Engineers at Suzuki have concentrated on keeping weight to a minimum in an effort to boost efficiency. As a result, even Toyota's Prius hybrid can't match the Alto's claimed CO2 emissions of 103g/km. As with its predecessor, the latest Alto is produced in India – and that's something it has in common with its rival here.
The Hyundai i10 is our current favourite in the city car sector, thanks to its spacious cabin, excellent dynamics and great value for money. On paper it faces stiff competition from the Suzuki, because even with a new 1.2-litre engine, the i10 uses more fuel and has dirtier emissions than its rival.
At £8,195 it also commands a £235 premium over the Suzuki. Is the Hyundai about to slip from the top of the podium?
Or is it worth the extra outlay? We hit the streets of the capital to find out.
Verdict
On paper there's little to separate our two contenders. They share virtually identical external dimensions, and only £235 splits them on price. However, in the final reckoning there can only be one winner.
The flyweight Suzuki has a lot to recommend it, not least its low running costs, cheeky looks and characterful powerplant. It's also fun to drive, although we have reservations about its braking performance.
Even so, the Alto doesn't do enough to topple the Hyundai in this test. The i10 more than justifies its higher price with its greater sophistication, performance and longer list of standard kit. Its cabin is also more spacious and versatile.
Only the lack of standard-fit stability control marks the Korean car down. Add it as an option, and the price rises by £580 more. In this sector that's a lot of cash – but we think the i10 is worth every extra penny.