Subaru Outback vs Saab 9-3X
Jacked-up estates from Subaru and Saab promise rugged ability and lots of space. Which is the better buy?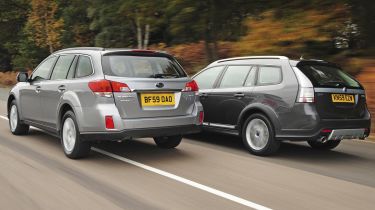 The young pretender versus the established pro... it's a familiar plotline, but not one usually applied to the crossover sector. In such a modern niche of the new car market, you might think old-timers are hard to find.
Yet Subaru has been making estates that think they're SUVs since the Nineties, when its Legacy Outback became an underground hit.
Its success inspired a raft of imitators, and when Subaru unveiled its first diesel engine last year, the Outback could finally compete with its younger rivals. Now, the model has been heavily revised, and the latest version should make the most of its new powerplant.
Up against the Subaru is a car from another alternative brand with a loyal following. Saab has no real off-road heritage, yet that hasn't stopped it developing a beefed-up version of its 9-3 Sport Wagon. The petrol 9-3X has 4WD, but this diesel sends power to the front.
Will its lower price be enough to compensate, or will the Subaru trample on the Saab's crossover credentials?
Verdict
The Saab 9-3X is cheaper, more economical and has lower emissions than its rival. For some buyers, that will be enough. However, if you want your crossover model to work for a living, the reality is different.
With four-wheel drive and extra ground clearance, the Outback can tackle truly challenging conditions without breaking sweat. As a result, it's the perfect car for outdoor families and, when you consider its generous equipment, the Subaru looks much better value for money.
While it's not as fast or stylish as the Saab, it's a mature, well rounded package that makes great use of the boxer diesel. Challenging looks are the price you pay for its greater personality and practicality.
1st:Subaru Outback With sales of Subaru's fiery turbocharged models in the doldrums, the Outback should be a real tonic. The newcomer majors on the firm's traditional virtues of practicality and robustness. We just wish the styling was more appealing.
2nd: Saab 9-3X The 9-3X is attractive, but isn't a much more versatile package than the regular estate car on which it's based. And if you want a crossover model to stand out from the crowd, the low-riding Saab misses a trick.