SEAT Ibiza Ecomotive vs Ford Fiesta ECOnetic
SEAT's Ibiza Ecomotive meets Ford's Fiesta ECOnetic in battle for green honours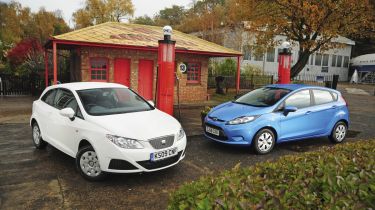 In the golden age of motoring, stopping to fill up with petrol was a pleasure. Your local garage would be manned by a cheery attendant, who would greet you with a wave and do the honours.
Stopping was all part of the journey, rather than an irritating delay.
It simply doesn't compare to the modern experience, where filling up is a grimy and expensive chore. Self-service pumps, queues and costly debit card transactions are now the order of the day – so it's no surprise motoring has lost its romantic appeal.
Help is at hand in the form of the latest generation of eco models. And the green superminis we put to the test here claim to return impressive economy, as well as reduce forecourt visits at a stroke. Both the SEAT Ibiza Ecomotive and Ford Fiesta ECOnetic should be able to deliver 76mpg, and emit only 98g/km of CO2.
The Ford has proven to be the smash hit of 2009. It has dominated the best sellers' chart, and was the first car this year to top more than 100,000 sales. Can the fuel-sipping Spaniard beat it in the eco stakes?
Verdict
These superminis show just how much can be achieved without resorting to complicated and futuristic fuel-saving technology. Simple measures like revised gearing and optimised engines deliver impressive economy, without sacrificing practicality. And neither car carries much of a premium over standard versions.
The SEAT is clearly the cheaper and more economical choice, although the trade-off is a more compromised driving experience. And we think the price you pay behind the wheel is simply too high considering the narrow green advantage the Ibiza has at the pumps.
If you want an eco model without sacrificing anything, the Fiesta is the car for you. It's a cracking all-rounder that disguises its green tweaks incredibly well. Yes, it looks expensive, but we think the more flexible engine and refined performance are worth the extra.
1st:Ford Fiesta
Another win for the all-conquering Ford. It's more efficient than a regular Fiesta model, but no less enjoyable to drive and own – making it the perfect compromise. We think that its price premium is worth paying.
2nd: SEAT Ibiza
The SEAT is the economy leader in this pairing, but there's more to this test than pure efficiency. Despite its bargain price, the Ibiza Ecomotive's driving experience has too many flaws for the car to take victory.